Artists' Lights 2016 in Turin
Art and lights created by contemporary artists for Christmas. Until mid-January.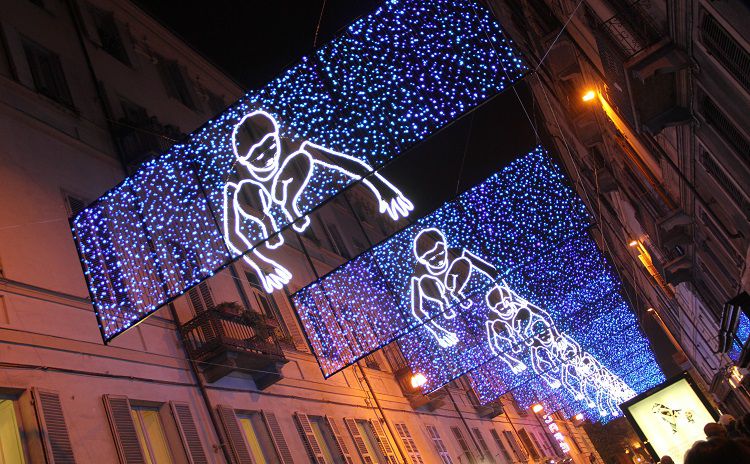 Since 1998 – when fourteen artists were commissioned to create Christmas illuminations – Turin turns into an open-air art gallery during Luci d'artista (Artists' Lights). The decorations (on display from October 28th to January 15th) are much more than simple Christmas lights: they are open air artworks. "Luci d'Artista" officially opens Turin contemporary art season every year.
The artworks on display are:
– Cosmometrie by Mario Airò in Carignano Square;
– Vele di Natale by Vasco Are Lagrange Street;
– Ancora una volta by Valerio Berruti in Subalpina Gallery;
– Palle di neve by Enrica Borghi Roma Street;
– Tappeto volante by Daniel Buren Palazzo di Città Square;
– Volo su… by Francesco Casorati in Pietro Micca and Cernaia Streets;
– Regno dei fiori: nido cosmico di tutte le anime by Nicola De Maria in San Carlo Square;
– Il Giardino Barocco Verticale by Richi Ferrero Alfieri Street (Palazzo Valperga Galleani);
– L'energia che unisce si espande nel blu by Marco Gastini Umberto I Gallery (Porta Palazzo);
– Migrazione (Climate change) by Piero Gilardi in San Federico Galley;
– Illuminated Benches by Jeppe Hein in Reale Square;
– Piccoli Spiriti blu by Rebecca Horn at Monte dei Cappuccini;
– Cultura=Capitale by Alfredo Jaar in Carlo Alberto Square;
– Luì e l'arte di andare nel bosco by Luigi Mainolfi in Garibaldi Street;
– Il volo dei numeri by Mario Merz in Mole Antonelliana;
– L'amore non fa rumore by Domenico Luca Pannoli Bodoni Square;
– Palomar by Giulio Paolini Po Street;
– Amare le differenze by Michelangelo Pistoletto in Antica Tettoia dell'Orologio, in Repubblica Square;
– My noon by Tobias Rehberger in Carlo Felice Square;
– Ice Cream Light by Vanessa Safavi in Carlo Alberto Street (from Po Street to Carlo Alberto Square);
– Noi by Luigi Stoisa Carlo Alberto Street (from Carlo Alberto Square to Vittorio Emanuele II Street);
– Luce fontana ruota by Gilberto Zorio in the Lake of Italia'61.
Some installations are accompanied by the music of young composers who took part in A Great Symphony project.
In addition, Luce in cattedra, the temporary light installation for the Castle of Valentino, designed and developped by PoliTo in Light (a student group of Polytechnic University of Turin) in collaboration with LAMSA (Laboratorio di Analisi e Modellazione dei Sistemi Ambientali of Polytechnic University of Turin).
In Lungo Dora Savona 30, it is possible see LumenFlumen, by the cultural association Nomen Omen.
The highlight of Luci d'Artista 2016 is #MosaicoTorino, the video-photographic installation for the opening of the event at Fondazione Sandretto Rebaudengo (via Modane 16), on October 28th, at 7 PM. It is promoted by Associazione 4k and designed by the artistic collective Dead Photo Working (www.deadphotoworking.com). The artwork is projected on the external wall of Fondazione (via Spalato side) until January 15th.

(Photos: ContemporaryArt Torino Piemonte)
Go to the website Artists' Lights 2016 in Turin