Ancient Taverns Festival – Licola di Pozzuoli
NOT CONFIRMED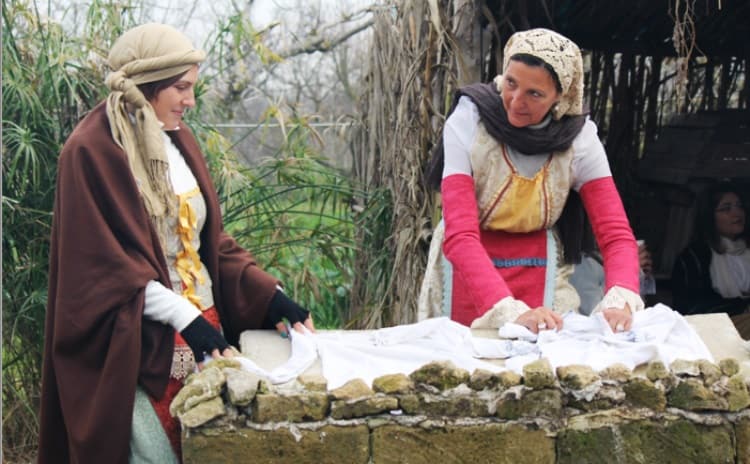 NOT CONFIRMED
Rediscovery of ancient traditions with 300 figures wearing customs.
The Ancient Taverns Festival usually takes place in May,  in Licola di Pozzuoli, in the suggestive framework of the archaeological park along the ancient Domiziana street, in the agricultural company of the State Institute for the Environment and the Agriculture "Giovanni Falcone". In 2022 should reach its 10th edition.
The heart of the event consists in the setting up of an everyday life cross section inspired to the 1700 with itinerant salespersons, popular dances, musicians and a reconstruction of seven "ancient" trattorie (eating houses).
All of the scenography is illuminated by torches and braziers and more than 300 figures dressed with traditional Neapolitan customs participate.
The ancient taverns offer the possibility to taste typical dishes of the Neapolitan tradition, and each of them is specialized in an ingredient or a recipe. The 7 Taverns are:
– Taverna del Marenaro, with seafood dishes
– Taverna dei Poverielli, with dishes of poor food cuisine
– Taverna dei Ciceri, with legumes based plates
– Taverna del Casaro, with cheese of the Campania region
– Taverna del Chianchiere, with embers cooking
– Taverna del Ragù, with the famous Neapolitan ragù as the main recipe
– Taverna delle Dolcezze Flegree, with very delicious sweets and desserts
Plus:
– the stands propose typical agricultural and food products of the territory;
– possibility to taste the typical recipes of street food: growing pasta, rice balls, meat balls, tripe salad, pears and musso, fried anchovies and squid…
– a small didactical farm is dedicated to children that can familiarize with gooses, rabbits, sheeps, pigs, and ride a pony and donkeys;
– and obviously a lot of music!
Groups of dancers and musicians with guitars, tammorré, astagnelle and putipù, liven up the ancient Domiziana stree with dances like villanelle, tarantelle and tammorriate.
At lunch and dinner, according to the old Neapolitan tradition, the musicians used to take a break at the several taverns to perform short concerts with traditional music in the Neapolitan language in the traditional riatual of the "posteggia",
Information
Via Domiziana 150 – Licola di Pozzuoli (NA) in front of the Villaggio Ideal Camping.
FREE ENTRANCE
(photos: event's official website)