Klimt Experience at the Church of the Holy Spirit – Naples
From October 20th to February 3rd 2019 multisensorial experience dedicated to Klimt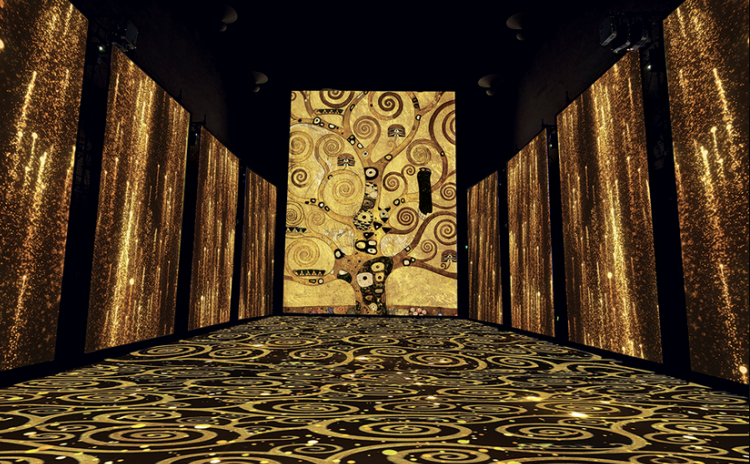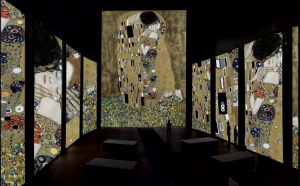 The Church of the Holy Spirit in Naples hosts the mulstisensorial experience for art lovers: KLIMT EXPERIENCE, from Saturday October 20th 2018 to Sunday February 3rd 2019. The church has become a cultural centre in 2017.
The exhibition is a multimedia representation dedicated to Gustav Klimt, the most significant artist of Vienna Secession in late 1800's and in the beginning of 1900's,
In the "experience room" around 700 images of Klimt artworks are projected that fill the ceiling, walls and floor, involving the visitor in a 360° experience through the works of the artist. Klimt Experience is an unusual exhibition that allows to observe art in a different way, by using the potentialities of new technologies.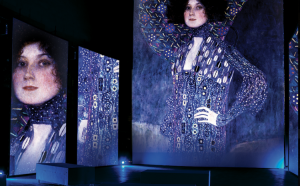 A visual show realized thanks to Matrix X-Dimension System, projected exclusively for this video installation, and that use a huge equipment of laser projectors, which are able to transmit on the surfaces of the installation more than 40 milion pixel, guaranteeing a higher definition than the Full Hd one.
It is possible also to admire photos of the time about the artist's life and 3D reconstructions of Vienna at the beginning of 1900's that help to better understand the author's poetry influenced by the social and cultural context in which he lived.
As background music a soundtrack with music by Strauss, Mozart, Wagner, Lehár, Beethoven, Bach, Orff  and Webern, who influenced the artist. The sensorial path is completed by an instructive system and a didactic area of introduction to the exhibition. The project, with the scientific direction of Sergio Risaliti and produced by 24 ORE Cultura, brings forward the celebration for the 100th anniversary of the artists death that will be celebrated in 2018 in the main museums of Vienna.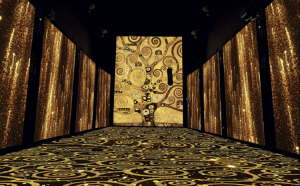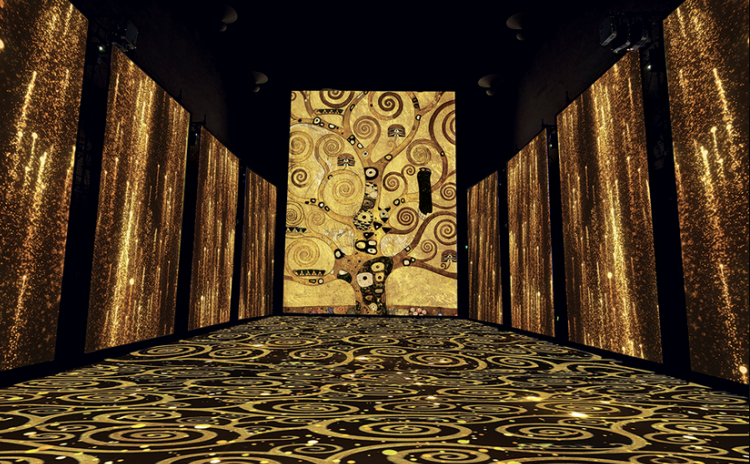 Gustav Klimt, borin in Vienna in 1862, was one of the Secessionist artist that cultivated the total artwork myth , through painting, architecture, applicated arts (jewels by Hoffmann) and fashion (for example the clothes designed with his fiancè Emilie Flöge).
His most famous pieces are "The Kiss", "The Tree of Life" and "Giuditta". 

Photo: website of the event

More Information >>>