Picasso Napoli Parade – Naples and Pompei
Up to July 10th two exhibitions to celebrate the centennial of Picasso's journey in Italy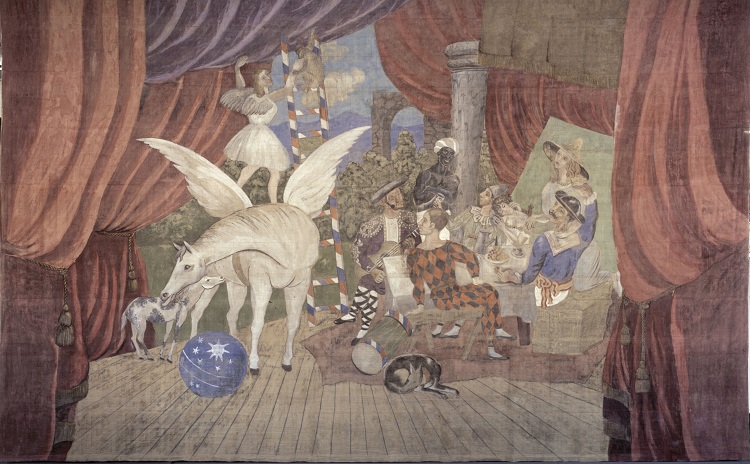 Picasso e Napoli: Parade – from April 8th until July 10th 2017 – is the exhibition that celebrates the centennial of Picasso's journey in Italy.
Two locations are involved for the exhibition: Capodimonte Museum in Naples and at the Antiquarium in Pompei.
Picasso visited Naples and Pompei between March and April in 1917 with Jean Cocteau, the French director and screenwriter, as he was collaborating with the Russes Ballet on Parade, that had to be on stage in Paris in May 1917. The ballet was created by Cocteau and the music was composed by Erik Satie.
In Italy, Picasso got in touch with Pompei's antiquity and the Neapolitan tradition, such as the nativity scene, popular theatre and the puppet one.
Two are the main "theatres" of the exhibition, Naples and Pompei.
In Naples in the Museum of Capodimonte'ballroom Parade is exhibited for the first time in Italy. It is a canvas 17 mt base and 10 mt height. In this artwork, the biggest one that Picasso had ever realized, the Cubist painter has been inspired both by the circus world and the classical art.
Also a wide selection of Picasso's works are in exposition: the sketches from the Musée National Picasso – Paris that retrace his creative path in the design of Parade's costume, the iconic Blue Athlete, his sketches for the ballet Pulcinella, also some puppets and "pupi" (typical Neapolitan puppets) from the collection of Fondaciòn Almine y Bernard Ruiz – Picasso para el Arte. Finally projections of some parts of the movie like, le Mistère of Picasso.
At the Antiquarium in Pompei the visitors can admire the ballet's costumes designed by the artist, which are compared to a collection of African masks and some archeological artifacts from the site (antefixes, relief slabs, statues…). There is also a sketch of the Cubism manifest framework Les Demoiselle d'Avignon (1907).
In combination with the event, in July 27th, 28th and 29th the Teatro Grande in Pompeii put on stage two ballets with the choreography by Léonide Massine: Parade with the music by Erik Satie and Pulcinella with the music by Stravinskij, both interpreted by the dancers of Teatro dell'Opera in Rome.
Some other events are organized by Teatro San Carlo with the projection in loop, on the monitor at the Mirror Foyer and in Memus (Museum and Historical Archive of Teatro San Carlo) until July 10th the movies of two ballets realized by Teatro dell'Opera in Rome, to remember the visitors about the theatrical impact of Picasso as an art director and costume designer.
Info and tickets
Museo di Capodimonte
Everyday except Wednesday from 8.30 to 19.30
Adult 10 euro
Reduced entry 8 euro
Antiquarium
Monday-Friday from 9 to 19.30
Saturday and Sunday from 8.30 to 19.30
The ticket includes the exhibition and excavations
Adult 13 euro
Reduced entry 7.50 euro
Photos from the event's official website

More Information >>>