Pizza in Vico – Vico Equense
April. Three days dedicated to pizza in the province of Naples.
TO BE CONFIRMED
Pizza in Vico, event dedicated to pizza and pizza makers, usually takes place in Vico Equense, in the province of Naples, in April. In 2022 it may reach its 5th edition.
The event is based in the two squares of Vico Equense. The two squares are united by a path full of stands with handcrafted and culinary local products.
Like every festival, the program includes performances and activities for kids.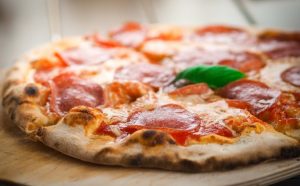 Pizza in Vico has been created with the purpose of gathering local pizza makers to promote the culinary delicacies of Vico Equense.
Moreover, Pizza in Vico decided to pursue a social purpose: the proceeds of the first edition were donated for the restoration of the facade of the Cathedral, to buy Benches of San Francesco Belvedere, and for other initiatives to sustain the local community.
This year, plenty of room will be given to the important recognition given by UNESCO to the art of Neapolitan pizza makers, which was added to the intangible cultural heritage of humanity list in 2017.
More Information >>>