Sponz Fest – Calitri, Alta Irpinia
From August 21st to 27th, 2017: a week of music and events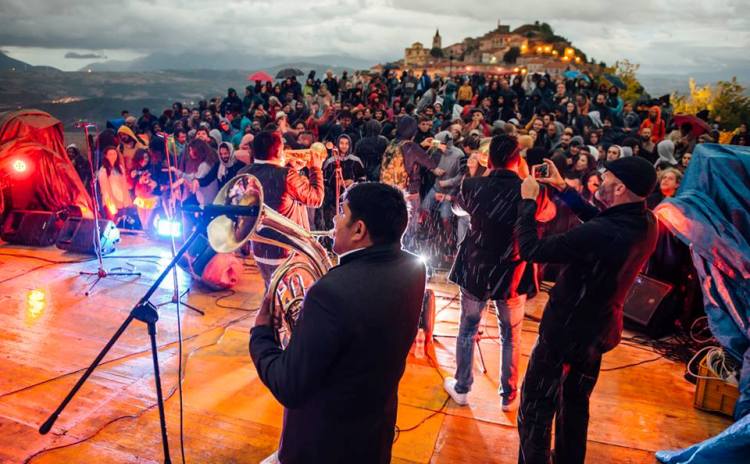 From August 21st to 27th, 2017 several towns in Alta Irpinia host the fifth edition of Sponz Fest, under the artistic direction of Vinicio Capossela, song writer, poet and writer.
The title of 2017 edition is All'Incontrè, Rivoluzioni e mondi al Rovescio", in occasion of the centenary of the Russian Revolution.
The word "Revolution" has different meanings:
– the circular round done by the planet on itself and around the sun;
– going against the habits in which we are involved;
– see things from a different point of view;
Traditionalliy, at the end of fertility ritual, the God of Dissipation commands to change the dance rotation, an order without sense that creates a new disorder and renovates the vitality: a new creation of the world…
And the command was: "Contrè !!! Girè !!! All'incontrè".
The art director, Vinicio Capossela, tells about this edition:
"The inner lands are our skeleton and lungs of air and immagination. They are the founding place of a country (a country made of towns and most of the territories that have a similar destiny, from the earthquakes to depopulation, to deprivation), the roots in which our shadow founder. For this reason Sponz Fest is an occasion ideal for this inner part of Italy. Incontrè'R is, for example, going to those places that the people already left. Already this is a a overturning of the world, a small action that can generate other actions. Spending a week together to build an inside out world, and so finally a little bit more right according to nature, can be a revolutionary action and that is what we propose to you.
We start from the end and we arrive at the start. We wait for you at the end.
We don't make public a program but an idea. Sponz fest – All'incontrè'R."
Vinicio Capossela
(photo: website and facebook page of the event)

Go to the website Sponz Fest – Calitri, Alta Irpinia