Tex. 70 years of a Myth – Exhibit in Salerno
September 18-October 18. Drawings, photographs, unpublished materials about Tex Willer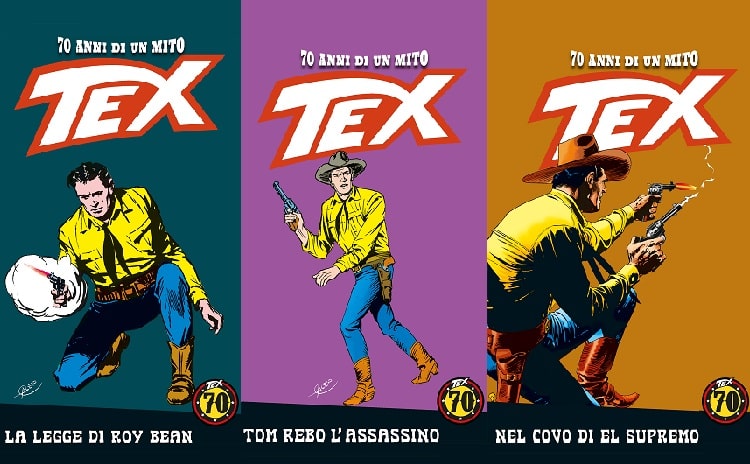 The 4th stage of Tex exhibition, 70 years of a Myth arrives in Salerno from September 18th to October 18th 2020 as part of the "Comicon Extra" program.
The exhibition, set up at Palazzo Fruscione, tells the story of Tex Willer's editorial success from 1948 to the present day. The character, one of the longest-lived in the history of comics, became very famous and popular in Italy and has conquered many generations of Italians readers so that it is considered a real social phenomenon.
Tex Willer or Eagle of the Night, is celebrated with the exhibition of drawings, photographs, rare and unpublished materials, and installations created in occasion of the event.
Among the many pieces of evidence exposed there are the first Tex comic strip (1948) in several languages, the Gianluigi Bonelli's portrait made by Ferdinando Tacconi, the Aurelio Galleppini's photographs, and the Gianluigi Bonelli's Universal 200 typewriter decorated by Bonelli himself.
Furthermore, the front pages of some newspapers retrace 70 years of Italian history in a sort of parallel between the adventures of the brave Ranger with a profound sense of justice, and the events happening in Italy.
The back-end
Over the course of its 70 years, Tex has had 4 main screenwriters, whose narrations are exposed at Palazzo Fruscione: Gianluigi Bonelli born in Milan on December 22, 1908, creator of the myth of Tex and operative until 1976.
He was succeeded by his son Sergio Bonelli, who signed the comic under the pseudonym of Guido Nolitta until 1983. Then, he was succeeded by Claudio Nizzi, who introduced typical elements of the detective genre into the western narrative, and finally, since 1994, Mauro Boselli is the current curator and brought the comic back to its origins.
The exhibition catalog is full of rare materials, drawings and texts enriching Tex Willer's sequence of events  and his incredible editorial story.
The exhibition is curated by Gianni Bono, historian and scholar of Italian comics, in collaboration with the editorial staff of Sergio Bonelli Editore and COMICON.
(Cover photos nr. 137, 138 and 139 of Tex 70 years of a Myth)
More Information >>>