"A.D. 1615 Palma to Arms" – Palmanova
2-4 September 2022. 200 re-enactors tell the story of Palmanova fortress-city in 1615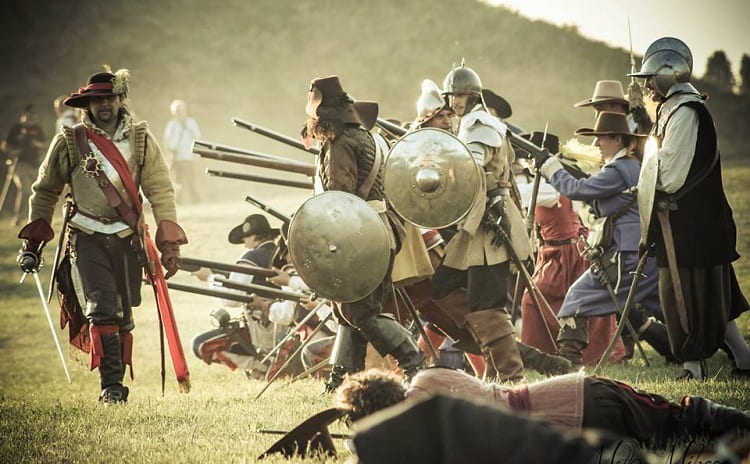 From September 2nd to 4th 2022, the city of Palmanova, in the province of Udine, is animated by the evocative Historical Re-enactment "A.D. 1615 Palma to Arms. which recalls the the siege and liberation of the fortress-city of Palmanova in 1809.
More than 200 figures wearing sixteenth-century costume participate in the re-enactment every year and recreate the beginning of the War of Gradisca (1615-1617) also known as the Uskok war or the Friuli war against the Austrians, the last between Austria and Venice.
Entering through Porta Cividale, the current Via Vallaresso, visitors can immerse themselves in the history of the Palmanova Fortress at the time of the Republic of Venice. Through a guided tour of the camp, visitors can retrace the life of the garrisons and the besieging troops, see the trainings of artillerymen, musketeers and soldiers, sword fights, the militia camp and the common people square, learn about the traditions and crafts, the cuisine, tailoring, music and dances of the time.
During the 3 days of Palma at Arms 1615 visitors can experience the camp and the city in an unusual and extravagant environnement.
INFORMATION
Historical Group City of Palmanova
For more information, send an email>>>
See also the facebook page for updates>>>
ARE YOU IN PALMANOVA?
Have a look to further places to see or events you can participate in Friuli Venezia Giulia>>>
And take advantage of the opportunity to taste its traditional food>>>
Photos from the Facebook page of the event
More Information >>>