Banksy. A Visual Protest – Rome
Up to April 11, 2021. Banksy in Rome 80 artworks of the famous street artist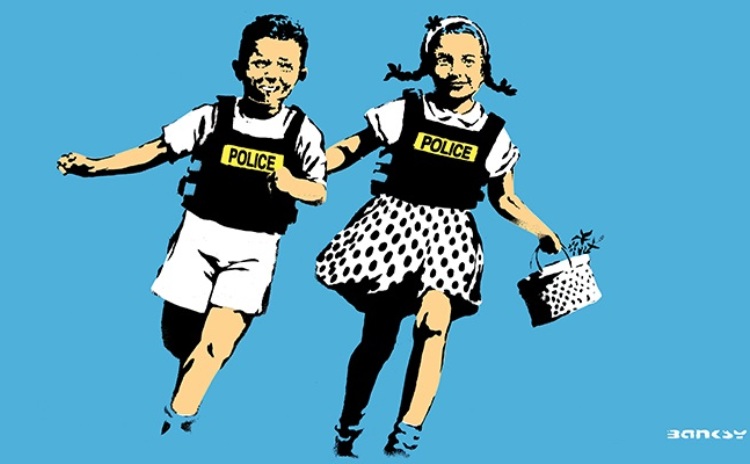 OPEN when LAZIO is YELLOW AREA
For the opening hours visit the website>>>
Scattered access
It is mandatory to wear a safety mask and to keep an interpersonal distance of at least 1 meter.
Booking online>>>
_______
From September 8th, 2020 to April 11th, 2021, Rome is hosting the exhibition "A visual protest" dedicated to Banksy, the English street artist famous for his artworks and for having protected his identity so effectively that he/ she remains unknown.
Banksy has been also the first artist who hid in one of his works a gimmick able to destroy it once sold in an auction. It happened in London at the beginning of October 2018 at Sotheby's auction where "Girl with Balloon" went in shreds the moment it was sold at the record price of 900,000 pounds.
The exhibition offers around 80 works by the famous street artist created between 2001 and 2017.
On stage artworks dedicated to war, wealth and poverty, animals, globalization, consumerism, politics, power, the ecology. All of them are communicating in the Banksy's original and non-conformist language addressed to the public in a direct and impactful way.
From Love is in the Air to Girl with Balloon, from Queen Vic to Napalm, from Toxic Mary to HMV, from the printing tests for the book Wall & Piece to the discographic projects for vinyl and CD covers: all works are presented in a rigorous path and they are not only documenting the themes but also the different techniques used by Banksy in his works: prints on paper or canvas, oil or acrylic on canvas, spray on canvas, stencil on metal, sculptures of painted polymer resin or painted bronze.
The exhibition set up in the cloister of the church of Santa Maria della Pace, famous as the "Chiostro del Bramante", gives visitors the opportunity to see and experience the relationship between the modernity of a provocative artist like Banksy and the beauty of a setting that has remained fascinating over the centuries.
Will Banksy come to visit the exhibition?
Entrance fee
Opening hours
Monday to Friday: from 10.00 am to 8,00 pm
Saturday and Sunday: from 10.00 am to 9 pm
(source of photo: Ansa)
More Information >>>