All about Banksy Exhibition 2 – Rome
5 May 2021-9 January 2022. 250 works by the most famous unknown street artist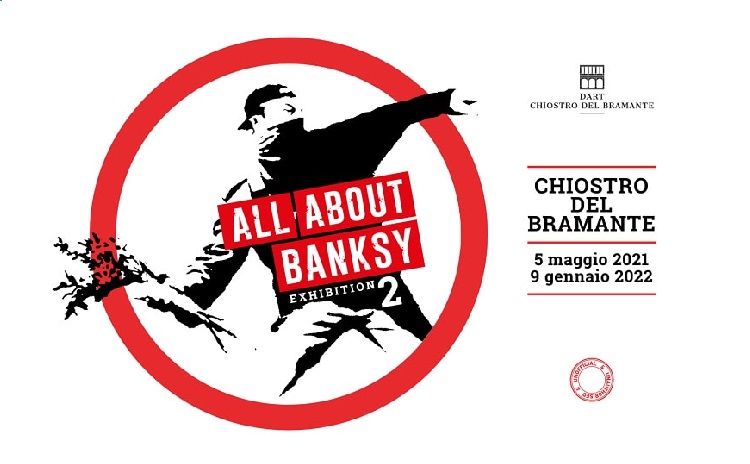 From May 5th 2021 to January 9th 2022, "All about Banksy Exhibition 2" arrives at Chiostro del Bramante in Rome.
It is the new exhibition dedicated to Banksy, the English street artist famous for his artworks and for having protected his identity so effectively that he/ she remains unknown.
Given the impossibility of extending "A Visual Protest", this exhibition is intended to be a second opportunity to discover everything that can be known about the most famous unknown artist in the world.
"All about Banksy Exhibition 2" exhibit offers about 250 works by the famous street artist from private collections.
Realized between 1999 and 2020, the artworks are dedicated to war, wealth and poverty, animals, globalization, consumerism, politics, power, ecology. All of them are communicating Banksy's original and non-conformist language addressed to the public in a direct and impactful way.
The exhibition is divided into thematic sections and an important section is dedicated to photos, reportages and unpublished insights contextualizing the artist's path.
From his last work on the walls of Reading prison where Oscar Wilde was held to Girl with Balloon, from Queen Vic to Napalm, from Toxic Mary to HMV, from the press proofs for the book Wall & Piece to the record projects for vinyl covers and CD.
The exhibition shows both the themes and also the different techniques used by Banksy in his works: prints on paper or canvas, oil or acrylic on canvas, spray on canvas, stencils on metal or concrete, sculptures in painted polymer resin or painted bronze…
To complete the exhibition, three videos to relive the most significant moments of Banksy's path, including an exclusive and unpublished documentary showing the artist's twenty-year career.
The exhibition set up in the cloister of the church of Santa Maria della Pace, famous as the "Chiostro del Bramante", gives visitors the opportunity to see and experience the relationship between the modernity of a provocative artist like Banksy and the beauty of a setting that has remained fascinating over the centuries.
Many are still wondering if and when the same artist will be among the visitors.
A curiosity – The destroyed work.
Banksy, who has always been opposed to the commodification of art,
Thus he has been also the first artist who hid in one of his works a gimmick able to destroy it once sold in an auction. It happened in London at the beginning of October 2018 at Sotheby's auction where "Girl with Balloon" went into shreds the moment it was sold at the record price of 900,000 pounds.
USEFUL INFORMATION
For the opening hours visit the website>>>
Tickets can be purchased online>>>
FROM AUGUST 6TH MANDATORY GREEN PASS
Entrance with a fee
For information please call +39 06 688 09035
Check also  the facebook page of Chiostro del Bramante for the exhibition>>>
Photo from the offical website of the exhibition in Rome
More Information >>>