Bernini Exhibiton – Rome
Up to February 4, 2018. Sculptures, paintings, restorations of Gianlorenzo Bernini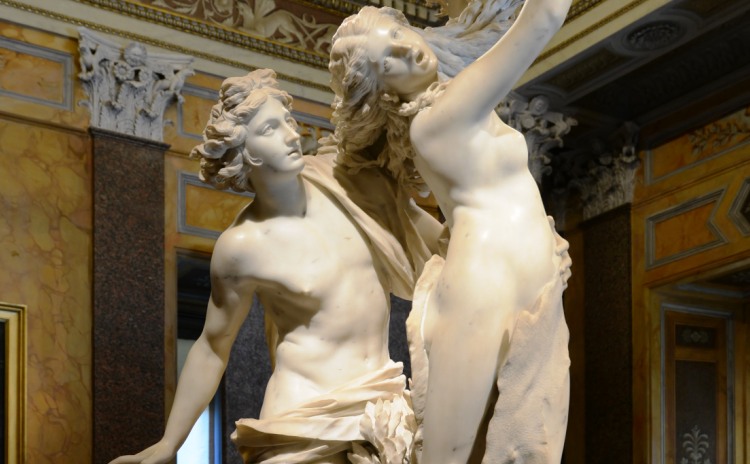 Starting from November 2017, until February 4th, 2018, the Galleria Borghese in Rome celebrates its 20 years of activity with an exhibition on Gian Lorenzo Bernini (1598-1680).
Main attractions of the exhibit are Bernini's sculptures, that were made for and have been hosted at Villa Borghese since the 17th century: Cardinal Scipione Caffarelli-Borghese, one of the first to notice Bernini's abilities, commissioned a series of marbles to decorate the rooms, while Pope Urban VIII integrated his sculptures within the architecture of the villa.
However, the exhibition also displays examples of the author's entire artistic production, that ranges from paintings, to putti, to restorations – demonstrating how he truly was a total artist.
The 76 works displayed are divided into 8 sections, that include:
– his early works, when he worked with his father Pietro;
– the marbles of Villa Borghese (Apollo and Daphne, Aeneas, Anchises, and Ascanius…)
– his restoration works;
– his busts;
– his paintings (e.g. Saint Andrew and Saint Thomas);
– the preparatory drawing and terracotta of the Equestrian Statue commissioned by King Louis XIV of France.
The exhibition is curated by Andrea Bacchi and Anna Coliva, in collaboration with Bernini and Baroque scholars and specialists, such as Maria Giulia Barberini, Anne-Lise Desmas, Luigi Ficacci, Sarah Mc Phee, Stefano Pierguidi.
Opening times:
Tuesday-Sunday, 9 am – 7 pm.
Last admissions at 5 pm.
(cover photo: Gian Lorenzo Bernini, Apollo and Daphne. Marble. Rome, Galleria Borghese)
More Information >>>