Raffaello 1520-1483 – Rome
Prolonged until August 30, the huge exhibit 500 years after Raffaello's death.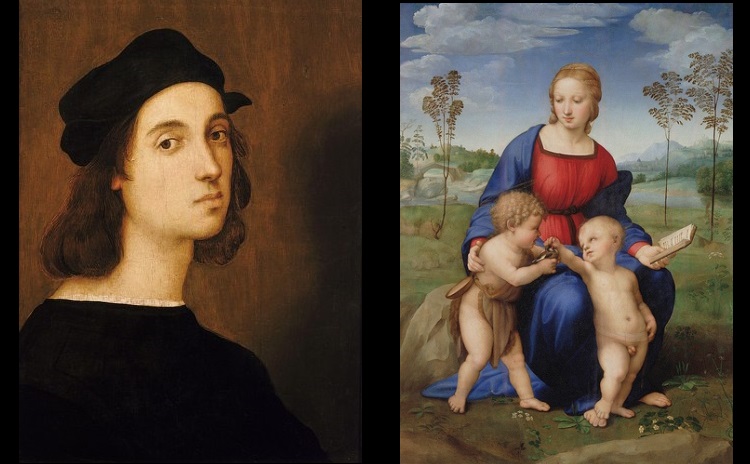 FROM JUNE 2ND RAFFAELLO EXHIBIT REOPENS. PROLONGED UNTIL AUGUST 30TH
Opening hours: from Sunday to Thursday from 8 am to 11 pm. On Friday and Saturday up to 1am
The visit lasts about 80 minutes and includes a 5-minute break halfway. Every hall has a limited stay time of 5 minutes and a tourist guide will facilitate the tour.
Maximum number of people per hall: 6
RESERVATION IS MANDATORY at Scuderie del Quirinale official website>>> or contacting the call center at the number +39 02-92897722 or buying a ticket at vivaticket sales points in Italy.
Visitors are kindly required to arrive 10 MINUTES BEFORE the visit so as to undergo the necessary checks. Late visitors may not be admitted to the museum.
At the entrance, visitors have their TEMPERATURE measured Access is denied in case of temperature higher than 37,5°.
It is mandatory to wear SAFETY MASKS during the whole visit and to maintain a 2-METER DISTANCE between each individual.
Storage is SUSPENDED. Helmets, backpacks, and other large objects that may compromise the safety of the works must not be introduced in the museum.
The use of audio guides is SUSPENDED. Edited commentaries to accompany the exhibit are available for free on Scuderie del Quirinale App.
________

The huge exhibition hosted at Scuderie del Quirinale in Rome it is the biggest monographic exhibit dedicated to Raffaello.
The exhibit wants to celebrate the 500th anniversary of the death of the artist from Urbino, which happened on April 6, 1520, when Raffaello Sanzio was only 37 years old.
It exposes over 200 masterpieces from all over the world: paintings, drawings, and comparisons to explain the painter, one of the greatest Italian artists of the High Renaissance.
Among the works exposed, at least 100 are signed by Raphael which makes the exhibit the most important and largest monographic one on the artist

Follow Scuderie del Quirinale Facebook page>>>
Can't you go to visit the exhibition? On Scuderie del Quirinale Youtube channel there are a lot of relevant information regarding Raffaello and also a VIRTUAL TOUR  of the exhibition >>>
More Information >>>