Once Upon a Time Sergio Leone – Rome
Until August 30, exhibit dedicated to the great Italian western director after 30 years from his death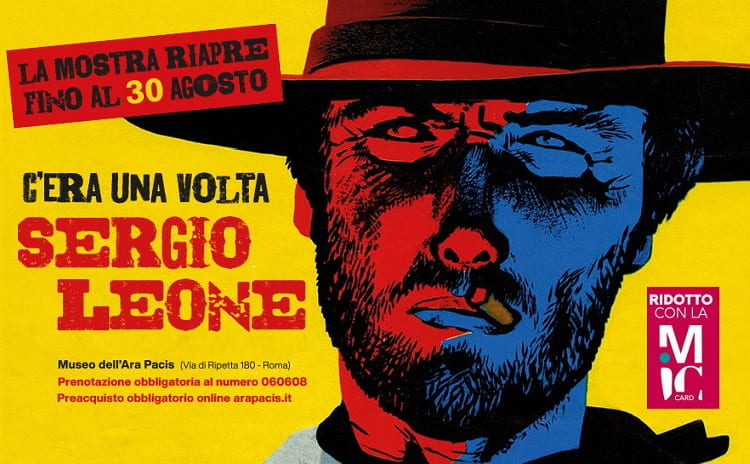 REOPENED FROM JUNE 2ND, 2020 AND POSTPONED UNTIL AUGUST 30TH, 2020
Opening hours: Everyday 9:30 am > 7:30 pm
Staggered access to ensure interpersonal distancing
BOOKING is MANDATORY from the website>>> or by calling +39 060608
Visitors admitted only with SAFETY MASK
______
Until August 30, 2020, Ara Pacis Museum in Rome hosts "Once upon a time Sergio Leone", the exhibition dedicated to Sergio Leone, the Italian director famous for his Italian Western movies, to celebrate the 30th anniversary after his death and 90th anniversary from its birth.
The exhibition route narrates the artist's life from his birth to his success, from his father's influence as a cinema pioneer in the golden age of the Italian silent film, to the production of the so-called Sword-and-sandal films, a cinematographic sub-genre of historical costume films, up to the choice to devote himself to the western genre, which he rewrites and reinvents, until reaching the climax with the direction of the famous and beautiful Once Upon a Time in America, the third film of the Once Upon a Time Trilogy,  along with Once Upon a Time in the West  and Once Upon a Time The Revolution.
A section of the exhibition is dedicated to the artist's last unfinished project on the siege of Leningrad. The director only wrote a few pages of the script before his death in 1990.
Following the artist's evolutionary path, the exhibition is divided into six sections: Citizen of cinema, The image sources , the Lion Workshop, Once upon a time in America, Leningrad and beyond, The Lion legacy.
Thanks to the archival materials of the Leones family, visitors can enter the director's studio and admire his relics, his library, and then plunge into his films through models, set designs, sketches, costumes, photos and props.
His films have inspired other great contemporary directors such as Martin Scorsese, Steven Spielberg, Clint Eastwood and Quentin Tarantino who have always appreciated the director's love for classics, his taste for architecture and figurative art that can be found in the sets and shots of his films
Entrance with fee
Visit also Ara Pacis Museum's Facebook page >>>
More Information >>>