Women, Mexico, Fredom. Tina Modotti exhibit – Genoa
8 April-9 October 2022. more than 100 shots of the great photographer emigrated to Mexico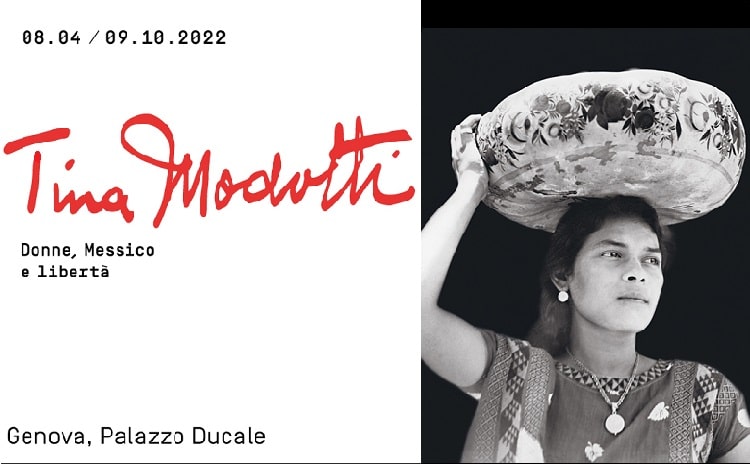 From April 8th to October 9th, 2022, the Palazzo Ducale in Genoa hosts the exhibition "Women. Mexico. Freedom" dedicated to Tina Modotti (1896 – 1942), a highly talented nonconformist woman, photographer, activist and Italian actress who has left an indelible mark on history of photography.
Her shots are in the most important museums in the world, and are the symbol of an emancipated and modern woman, whose photographic art is deeply linked to her social commitment.
This exhibition displays a hundred photographs, original 1970 prints, letters, documents and videos that bring the public closer to Tina Modotti free spirit who passed through misery and fame, art and political passion, arrests and persecutions, gaining admiration for the full and constant respect for herself, her thoughts and her freedom.
Tina was born in Udine in 1896. Very poor, she was forced to emigrate. She could have pursued a career as an actress and exploiting her rare beauty to effortlessly obtain economic benefits. But her choice of freedom led her to study and she decided to express her idea of ​​freedom through photography and civil commitment.
Then Tina Modotti choose to emigrate to Mexico to share her ideas with the mexicans avant-gardes. There she met painters and poets as Frida Kahlo and Diego Rivera, José Clemente Orozco and David Alfaro Siqueiros. She followed the first steps of photographers such as Manuel Alvarez Bravo and his wife Lola, met the great photographer Imogen Cunningham, poets and writers such as David Herbert Lawrence and Mayakovsky, musicians, a circle of experimental and free artists of which Tina soon became a protagonist.
From Mexico, who had welcomed her and of which she became an icon, she crossed the borders of the Americas, to be recognized on the world art scene.
During her life she has been committed, with her partner Vittorio Vidali, to a free society, defending all civilian victims of wars such as the Spanish one.
Tina was never able to return to her beloved Italy because of her anti-fascist ideas and activities.
She died in Mexico City in 1942. On her premature death, at the age of 46, artists such as Picasso, Rafael Alberti paid tribute to her and Pablo Neruda dedicated her a famous poem.
USEFUL INFORMATION
Opening hours:
– Monday from 2pm to 7pm,
– Tuesday to Sunday from 10am to 7pm
– Friday from 10am to 9pm
From August 1st to October 9th:
– Tuesday to Sunday from 10am to 6pm
Entrance with a fee>>>

ARE YOU IN GENOVA?
See further events and places to visit in Liguria>>>
And why not taste the traditional food of Liguria>>>
Credits photo: facebook page of Palazzo Ducale
More Information >>>