Teatro alla Scala – LIVE Première December 7th, TV and STREAMING
7 December 2020 – LIVE première of Milano La Scala Theatre TV and STREAMING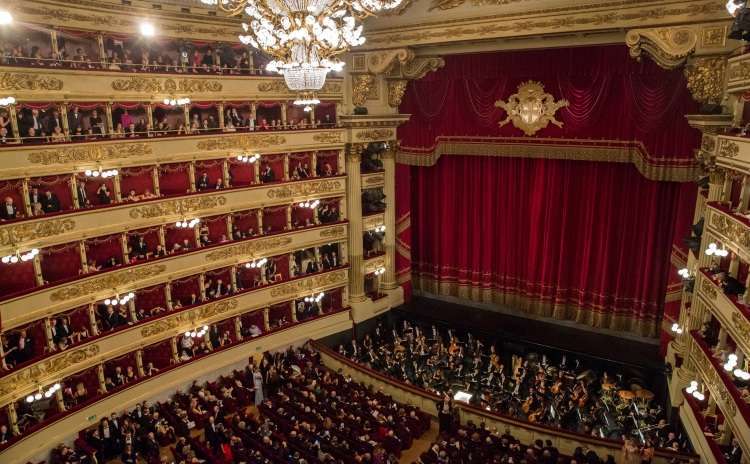 December 7th 2020 at 5 pm (CET time): the live première of Teatro Alla Scala will be broadcast:
– Italy: Rai Cultura in Eurovision 0n Rai1, Radio3 Rai, Euroradio, streaming on RaiPlay and on medici.tv
– France and further French speaking countiries, in Germany and further German speaking countries on Arte Concert
– Czech Republic: Ceska Televize,
– Americas and Australia, Africa, Spain, Portugal, Northern Europe, Turkey, Albania, Sweden and further countries on medici.tv.
Not live but as a delayed broadcast: in Italy on RAI 5, in France Arte TV, Korea on Il Media, Slovenia on RTV Slovenija, in Russia on TV Kultura, in Ungheria on MTVA, in Serbia on RTS, in China on CCTV
———
On December 7th, 2020 the famous Alla Scala Theatre is presenting a "première" without opera lovers in the theatre, but broadcast in streaming with some of the greatest interpreters of opera and ballet as protagonists.
The 2020 première will go down in history for its uniqueness. Instead of Gaetano Donizetti's Lucia di Lammermoor drama, the theatre presents "A riveder le stelle"  for an evening dedicated to music and dance
"Seing the stars again" ("A riveder le stelle") – The particularly evocative title is inspired by the last verse of Dante's Inferno: "And so we went out to see the stars again". A wish and an omen to soon go back to that social life made of relationships that is impossible at the moment. As the superintendent of Alla Scala Theater, Dominique Meyer said: "A message of hope because this tragedy will end and we hope soon"
The program – In program extracts of works by Giuseppe Verdi, Gaetano Donizetti, Giacomo Puccini, Georges Bizet, Jules Massenet, Richard Wagner and Gioachino Rossini, while the music of the ballets is composed by Pëtr Il'ič Čajkovskij, Davide Dileo, Erik Satie and Giuseppe Greens.
The protagonists – Conducted by Maestro Riccardo Chailly, directed by Davide Livermore, and 24 of the greatest voices of our time and the ballet troupe of La Scala dancers will participate.
The call from La Scala was answered by singers who have collaborated in the past with the theatre and in many cases have made it their musical home by participating in various productions: Ildar Abdrazakov, Roberto Alagna, Carlos Álvarez, Piotr Beczala, Benjamin Bernheim, Eleonora Buratto , Marianne Crebassa, Plácido Domingo, Rosa Feola, Juan Diego Flórez, Elīna Garanča, Vittorio Grigolo, Jonas Kaufmann, Aleksandra Kurzak, Francesco Meli, Camilla Nylund, Kristine Opolais, Lisette Oropesa, George Petean, Marina Rebeka, Luca Salsi, Andreas Schager, Ludovic Tézier, Sonya Yoncheva.
The part dedicated to ballet will be directed by Maestro Michele Gamba and will feature the étoile Roberto Bolle and the main dancers Timofej Andrijashenko, Martina Arduino, Claudio Coviello, Nicoletta Manni, Virna Toppi and the soloists Marco Agostino and Nicola Del Freo.
The choreographies are by Manuel Legris (who contributes to the evening with Verdi Suite, a creation in homage to Italian music), Rudolf Nureyev and Massimiliano Volpini.
photo Brescia and Amisano ©
More Information >>>