The art of Banksy. A Visual Protest – Milan
21 November 2018 – 14 April 2019. First Italian exhibit dedicated to the famous street artist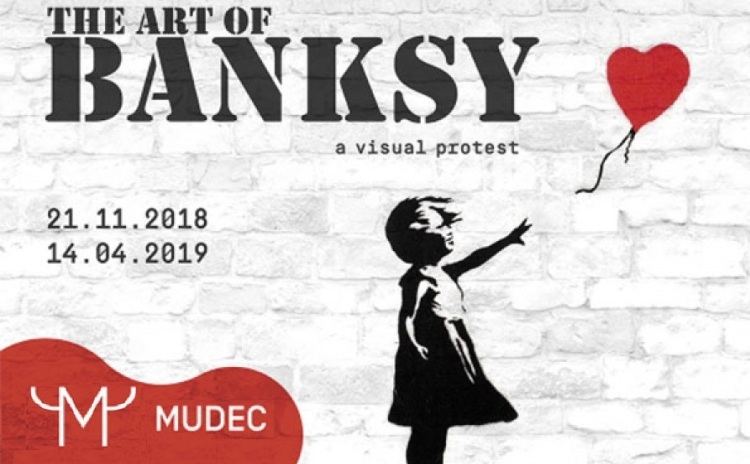 The art of Bansky. A Visual Protest
From November 21, 2018, to April 14, 2019, MUDEC in Milan hosts the first exhibit in a public museum dedicated to Banksy, an England-based artist known for his street whose identity has never been revealed.
IN ORDER TO FACILITATE VISITOR FLOW, RESERVATION IS HIGHLY RECOMMENDED AS TO GUARANTEE THE ENTRY.
Sunday, November 25, the entry was blocked to visitors without reservation.
Banksy has been the first artist who hid in one of his works a gimmick able to destroy it once sold in an auction. It happened in London at the beginning of October at Sotheby's auction where "Girl with Balloon" went in shreds the moment it was sold at the record price of 900,000 pounds.
Being the exhibit "unauthorized", it presents 70 works only coming from private collections and no reproduction of works in public spaces.
It is the first exhibit in Italy presenting Banksy and many people wonder if and when among the visitors, Banksy himself will pay a visit.
Among the works, there are paintings, sculptures and prints divided into themes and genres with objects, photographs, and videos attached giving a broader illustration to the nonconformist perspective of the artist.
Opening hours:
Monday 2.30 pm-7.30 pm
Tuesday, Wednesday, Friday, Sunday 9.30 am -7.30 pm
Thursday, Saturday 9.30 am -10.30 pm
(cover photo from the official website)
Go to the website The art of Banksy. A Visual Protest – Milan