Paparazzi are coming! – Turin
13 September 2017-7 January 2018. In 150 images, the art of stolen photography from 'La Dolce Vita' to present day.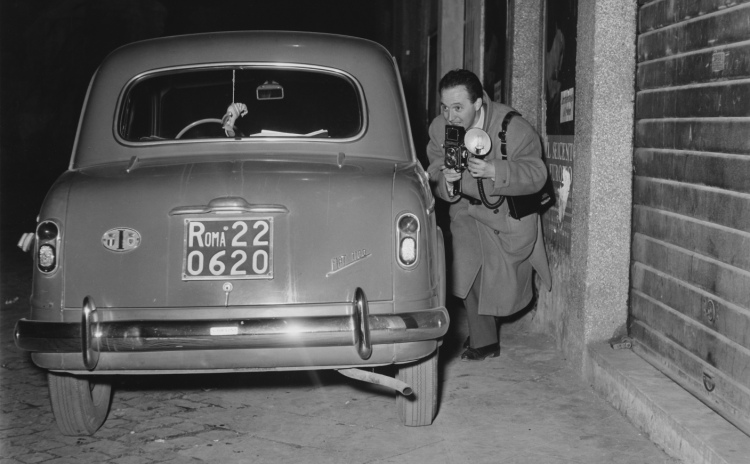 From September 13, 2017, to January 7, 2018, Paparazzi are coming (in Italian: Arrivano i Paparazzi!) is an exibition taking place at the Italian Centre for Photography (CAMERA) in Turin.
The exhibit is fully dedicated to the art of "stolen" photography so famous in Rome during the "Dolce Vita" years when the most famous movie stars came to work at Cinecittà Studios.
Through 150 photos, the exhibit tells the story of the phenomenon that changed the history of photography, from its origins in 1950s Italy to its contemporary international perception.
Arrivano i Paparazzi 's main focus is on Rome in the 1950s: visitors are able to soak up in the atmosphere of the time thanks to images by photographers such as Tazio Secchiaroli, Ezio Vitale, Marcello Geppetti and Lino Nanni, that manage to perfectly recapture those captivating years.
The exhibit then unfolds through the changes of the following decades, with the context becoming "raunchier" and Paparazzi's photos voyeuristic: no more close-ups, but rather private, intimate moments, stealthily shot.
The photographs portray past and present VIPs, from the famous years of 'La Dolce Vita' to the digital age, in a real historical depiction of the art that was able to influence trends and habits of society.
Protagonists are always the rich and famous – actors and directors first, politicians and models then; among them: Brigitte Bardot, Marilyn Monroe, Jackie Kennedy-Onassis, Federico Fellini, Michelangelo Antonioni, Sofia Loren, Lady D, David Bowie, Kate Moss, Monica Bellucci, Silvio Berlusconi.
The exhibition also hosts works by contemporary artists such as Ellen von Unwerth, Alison Jackson and Armin Linke, who reflect on the fascinating but controversial activity of Paparazzi.
Plus, a number of events to further examine the phenomenon, such as encounters with the artists at Reggia di Venaria, vintage video clips, and film screenings of movies of the calibre of "La grande bellezza" and "La dolce vita".
(cover photo:Tazio Secchiaroli in agguato, by Ezio Vitale. Rome, 1958; photo credits)

Go to the website Paparazzi are coming! – Turin