Titanic – The Artifact Exhibition – Turin
Up to July 21st on stage the objects recovered after the famous sinking of the Titanic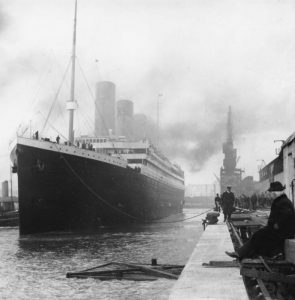 Titanic – The Artifact Exhibition  is an exhibition dedicated to the biggest and most famous ocean ship in the history: theTitanic.
It is held in Turin from Saturday March 18 UP TO FRIDAY JULY 21ST
The Titanic ship sunk in April 1912 because of a collision with an iceberg while it was transporting 2.228 passengers and 1.500 of them died in the cold seas of the North.
Since then, recovering the objects in the ship becam a big challenge: the ship was full of rich people and there were many  jewelries and valuable objects deposited in the safe of the Titanic by the passengers of the first class.
Between 1987 and 1994, many expeditions were organized which recover more than 4.000 pieces of  wreck at the bottom of the ocean.
The exhibition involves the visitors with the ship engine noises and by listening to the personal stories of the passengers and crew (from the millionaire of the first class to the immigrants of the third class) and by letting know the reasons of their journey in America.
There are authentical pieces of the ship, passengers' objects, the riconstruction in real scale of a fisrt class cabin and a third class one, the main bridge, and video clips of that time .
Moreover a real wall of ice is displayed which revives to the visitor the cold conditions of the first hours of the morning in April 15 1912.
At the end of the path a memorial wall that remembers the names of all the passengers, both the victims and the survivors of the unlucky journey of the Titanic.
This exhibition arrives for the first time in Italy, thanks to Dimensione Eventi, on the license of Premier Exhibitions, after fascinating more than 25. 000 000 visitors.
When and where:
The exhibition takes place in the Società Promotrice delle Belle Arti in Turin from March 18 to July 21st 2017.
The exhibition is open everyday from 10 am to 8 pm; saturday from 10 am to 10 pm. 
For price information and ticket purchase >>>
Photos: event's official facebook

More Information >>>