Corsa degli Scalzi in Cabras
3-4 September. Reenactment of the rescue of Saint Salvatore's statue from the attack of the Moors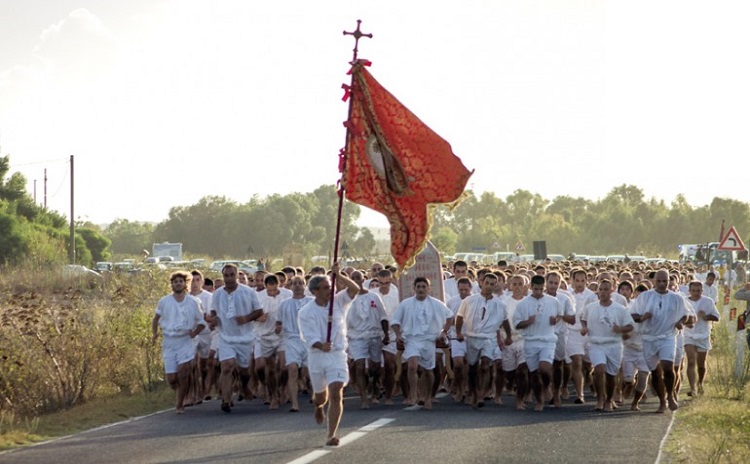 Corsa degli Scalzi (barefoot race) is a popular religious festival in Cabras, located at the Sinis peninsula (on the West Coast of Sardinia) taking place the first weekend of September (in 2022 on September 3rd and 4th).
It is a reenactment of the rescue of Saint Salvatore's statue from the attack of the Moors.
It is said that in 1619 the men of the town, who were fighting against the invaders, ask to a group of women to bring the statue of the patron saint  from Cabras to the village of San Salvatore di Sinis, to protect it from the Moors attacks.
The women, who were running barefoot, successfully did their mission and saved the statue.
The first Saturday in September a group of young people, without shoes and wearing a white tunic of the penitents, Is Curridoris (runners), take the wooden statue of Saint Salvatore to bring it, barefoot and with a race 7 km long through the dirt road of Sinis, and then return to the church of Saint Salvatore in Sinis in the village of "muristenes", the typical temorary country houses in Sardinia.
On Sunday the procession going to the village occurs, followed by the women wearing the typical costume of Cabras and by the sound of the traditional "launeddas" and accordion.
At the dawn the runners bring the statue of Saint Salvatore back to the church of Santa Maria Assunta in Cabras.
The ritual of the barefoot race is also considered a good omen for the harvest, abundance of fish in Cabras pond and sheeps' fertility.
The celebrations continue with traditional Sardinian music, labs for children, exhibitions, fireworks…
INFORMATION
The website is not updated yet.
For more information
Municipality of Cabras
Tel. +39 0783 3971
September is a nice period to visit Sardinia.
See where you can go, the beautiful white beaches destinations here >>>