Snail Festival – Lacugnano
July 26th – August 4th. Snails, music, dances, briscola and table football tournaments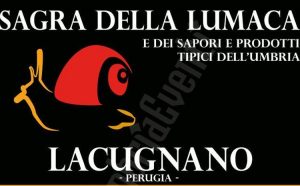 From Friday July 26th until Sunday August 4th 2019, Lacugnano, a small town in the province of Perugia, celebrates the summer season with the 40th edition of the Snail Festival.
Ten days of celebration dedicated to food with dished based on snails. Among the specialities to taste: snails as starters, snails dipped in a sauce, porchetta snails and snail skewer.
The menu also offers further menus and typical products of Perugia's tradition such as the goose in porchetta, tagliata di Chianina and the testo cake (white pizza baked in a cast iron testo, a culinary tool).
During the festival briscola (Italian card game) and table football tournaments. The entertainment included also music and balls at a big dancing hall.
In the same dates another particular festival occurs, the Goose Festival in Bettona, always near Perugia. Different food specialties of Umbria based on goose to taste!
Umbria is a land of great products: cold cuts, truffle… Do you want to know more about the typical products? And about the wines doc? >>>
Photos from the official Facebook page of the event