CastelBrando Christmas Ice – Cison di Valmarino
From 7 December 2019 to 6 January 2020, in CastelBrando the largest Ice Nativity Scene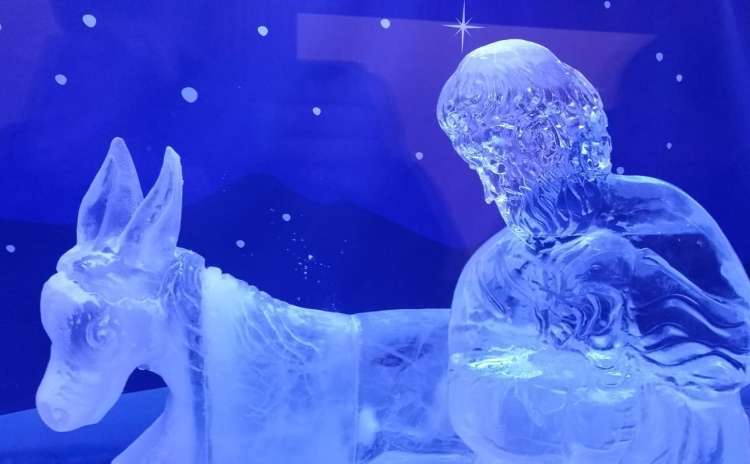 In the province of Treviso from 7 December 2019 to 6 January 2020, CastelBrando, one of the oldest castles in Europe, comes alive with the first edition of "CastelBrando Christmas Ice".
Throughout the Christmas period, CastelBrando hosts painting and sculpture exhibitions, local handicraft cribs, workshops and attractions for children.
But two extraordinary attractions also make the atmosphere magical:
– the largest living Christmas tree in Italy, an Atlas cedar of over 200 years and a height of over 33 meters. To lighten it and get to the top, professional climbers have arrived.
– the largest Ice Nativity Scene in Italy with 50 square meters of controlled temperature display case (-10 ° degrees) with 15 life-size statues, made by the Italian Academy of Artistic Ice.
The four artists who created the Nativity under the guidance of Francesco Falasconi, multi-medal world champion. used 200 quintals of ice. And during holidays and pre-holidays days they will be in Castelbrando to demonstrate their ability with live performances.
Anyone wishing to enjoy a stay at the castle can stay in Castelbrando directly, which is also a 4-star hotel with elegant rooms and suites, a SPA created in the oldest wing, a fine restaurant, a more informal restaurant-pizzeria, and furthermore several bars, wine cellars, wine shops, and a museum of carriages and ancient armor.
During "CastelBrando Christmas Ice" there will be the opportunity to visit the whole castle thanks to guided tours, even in the evening, in the magical Christmas atmosphere.
And after the visit to CasteBrando, from 16 December in the nearby Mura it is possible to admire a collection of Nativity Scenes and on the weekend of 7/8 and 14/15 December Cison di Valmarino is animated by the "Stelle a Natale" event.
ICE NATIVITY SCENE OPENINGS HOURS
7-8 and 14-15 December from 10;00 am to 8:00 pm
From December 21st 2019 to January 6th 2020:
Holidays and Pre-holidays from 10;00 am to 8:00 pm
Weekdays from 2:00 pm to 8:00 pm
Adult admission fee € 3.00
Free entry for children up to 10 years