Villa Widmann Rezzonico Foscari – Brenta river
Venetian jewel in French rococo style to be admired on the Riviera del Brenta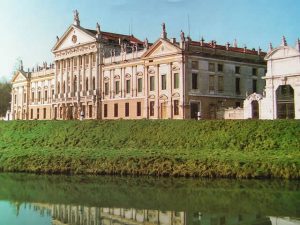 Villa Widmann is a beautiful French rococo style mansion located between Venice and Padua on Riviera del Brenta.
Built at the beginning of '700 by the Venetian noble Serimann family,  from Persia, it is considered one of the Venetian jewels of the late baroque period.
In the middle of century the Villa was bought by the Widmann family who restructed it with a French rococo style.
Villa Widmann today is open for guided tours, and the whole villa includes the Master House, the colonnade, the Greenhouses, the Oratory, the historical garden and the monumental park.
The marvellous park measures over 16.000 sqm. It is rich of tilias, cypresses, horse chestnuts and old roses and a natural background of many stone statutes of nymphs, cupids and other characters of the Arcadian world. The atmosphere is made even more romantic by the presence of a small lake with many swamp cypresses.
In the  Oratory on the marble altar there is a small altarpiece that symbolizes Virgin Mary, the Child and the Saints.
The Master House of Villa Widmann is built upon 3 floors and it has preserved the old furniture with antique pieces of furniture, Murano glass chandeliers and brocade curtains. Part of the visit is focused on the mezzanine and first floor paying particular attention to the objects that give visitors the feeling how it was the Venetian nobility's lifestyle.
Very charming are the frescoes in the central room realized by Giuseppe Angeli representing with bright colors the abduction of Elena and the sacrifice of Ifigenia. On the ceiling a homage to the Widmann family illustrated through characters of the Greek mythology.
Moreover the visitor may admire the room dedicated to the gondola and to the craft trades connected to it. Don't miss the felze, the traditional upholstery of the Venetian boats.
The arcade of Barchessa includes a Venetian style campus and a collection of ancient carriages.
Schedule
From Tuesday to Sunday (also on non-working day Monday): 10-13 and 13.30-16.30
Reservation is mandatory for groups over 20 persons.
tel: 041 424.973 – fax 041 4266.560
mail: villawidmann@servizimetropolitani.ve.it
Photos from the official website

Go to the website Villa Widmann Rezzonico Foscari – Brenta river