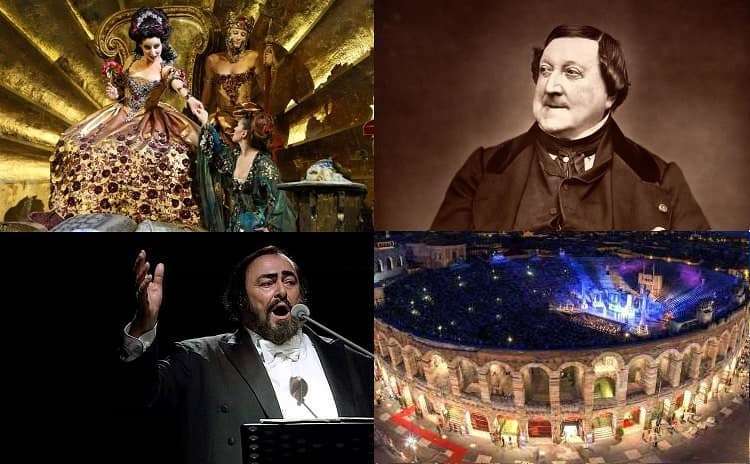 Passionate about Opera!
Italy means also Opera Lirica, the "Bel Canto", the art for which Italy is known in the world.
Here below you can find a selection of places, events and characters who are ambassadors of Italian opera. Some well-known, such as the season at Teatro Alla Scala in Milan or at the Arena in Verona, others that are known mainly by refined connoisseurs, such as the Festival of the Itria Valley in Puglia.
In addition, you will also find some houses where famous artists lived. They are "houses of the soul", now transformed as museums that preserve the memory of wonderful personalities testifying to the link between their work and their private life.
Lombardy
– Teatro alla Scala Museum – One of most important theater museums in the world. Full of memorabilia, set costumes, drawings: the world of opera behind the scenes. In Milan>>>
OPERA SEASONS
– The season at Teatro alla Scala – The season at Teatro alla Scala starts on the evening of Sant'Ambrogio, patron saint of the city, on December 7th. Operas, ballet, concerts. In Milan>>>
Emilia Romagna
– Luciano Pavarotti House Museum – The residence of Maestro Luciano Pavarotti hosts stage costumes, awards, photos and videos of the great tenor. In Modena>>>
– Giuseppe Verdi National Museum – A museum to pay homage to the great composer and his most popular operas in the world. In Busseto, in the province of Parma, Giuseppe Verdi's birthplace CLOSED
– Villa Verdi, for 50 years the residence of the great composer Giuseppe Verdi. In Sant'Agata, in the province of Piacenza – CLOSED
– Renata Tebaldi Museum – A museum dedicated to the greatest Italian opera singer Renata Tebaldi. In Busseto, in the province of Parma
Marche – FESTIVAL
– Rossini Opera Festival, the festival dedicated to Gioachino Rossini by his hometown. In August in Pesaro>>>
– Macerata Opera Festival, the summer event gathering opera enthusiasts from all over the world. In Macerata, usually between July and August>>>
Puglia – FESTIVAL
– Valle d'Itria Festival, the festival for opera lovers with unreleased repertoires, original and complete versions of operas. In Martina Franca, in the province of Taranto between July and August>>>
Tuscany – FESTIVAL
– Puccini Festival, the only festival entirely dedicated to the composer Giacomo Puccini where Puccini lived. In Torre del Lago Puccini, in the province of Lucca Between July and August>>>
Veneto
– La Fenice Theater, the main theather in Venice and one of the most important, famous and fascinating opera houses in Italy. In San Marco district in Venice>>>
OPERA SEASONS
– Verona Arena Opera Festival, the season at the Verona Arena, in the magnificent Roman amphitheater. Between June and September in Verona>>>
Cover photos, from top to bottom, from left to right: Valle d'Itria Festival, Rossini Opera Festival, Luciano Pavarotti House Museum, Verona Opera Festival