A Mosaic for Tornareccio
An extraordinary open-air museum of mosaics that can be visited all year long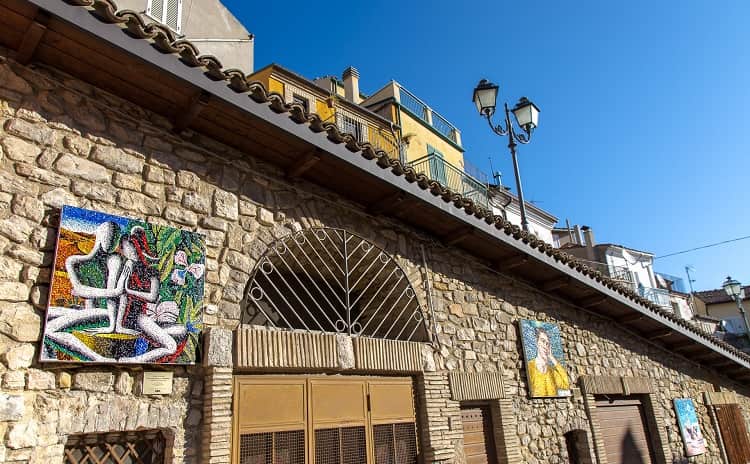 Tornareccio, in the province of Chieti, hosts the project "A mosaic for Tornareccio" (Mosaico per Tornareccio) that is an extraordinary open-air museum of mosaics inside the town.
96 mosaics are installed on the walls of the houses, arranged according to the strategy of museum-themed "rooms".
The mosaics can be admired during a pleasant walk through alleys, squares, streets and glimpses of this town that is called also the "capital of honey", due to its main production.
A Mosaic for Tornareccio comes out from Alfredo Paglione, a gallery owner born in Tornareccio, and up to now his project has gathered 242 artists and 12 curators.
Every year the "Mosaic for Tornareccio" is getting bigger thanks to a collective exhibition lasting all summer, which also awards the "best" mosaics voted by two juries: a popular jury and an expert jury.
Among the great contemporary artists who "exhibit" in the widespread museum are: Giosetta Fioroni, Omar Galliani, Gino Marotta, Gino Severini, Aligi Sassu, Ennio Calabria, Bruno Ceccobelli, Carlo Mattioli, Piero Guccione, Giuseppe Modica, Alberto Sughi, Ruggero Savinio , Riccardo Licata.
Photos from the official website and the Facebook page of the museum
ARE YOU IN ABRUZZO?
See what else you can do or see in Abruzzo>>>
DO YOU LOVE ART?
See other exhibitions and even curious museums throughout Italy>>>
More Information >>>