Basilicata – Territory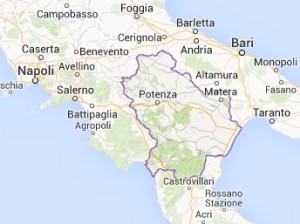 Basilicata is a crossroad of cultures and traditions and provides the world with the stunning Sassi di Matera (UNESCO site) and with a lots of findings coming from Neolithic to Middle Ages, like the Rocky Churches (Matera area).
Nature is a key element of Basilicata: Pollino National Park, which extends to Matera area and Calabria region, is the largest natural reserve of Italy. There are eleven Protected Areas and also many lakes, like Monticchio (volcanic origin).
The territory is mostly a mountainous territory, but it has different landascapes too. Starting from the North, you will find the Lucano Appennine, and moving to South the territory transforms into Ionian golden beaches, starting from Metaponto and finishing in Calabria. The Tyrrhenian Coast is steeply and irregular: there you can find the famous Maratea, dominated by the statue of Christ bery similar to the one in Rio de Janeiro. Maratea is full of restaurants and clubs.
Basilicata is ideal to practice outdoor activities. Trekking, horse riding or mountain biking at Pollino National Park.
Deers, appenine wolves and royal eagle may be spotted in the Park of San Giuliano.
Water sports lovers may choose Lake Petrusilio in Val D'Agri for fishing; or may practice canyoning and rafting in the small rivers sloping towards Metaponto and rowing in Lake Sinise, where every year top level canoeing competitions are organized.
NATIONAL PARKS IN BASILICATA:
The National Parks of Italy are natural areas of land, sea, river, or lake whose value is a well-preserved ecosystem. Thus their nature, together with their cultural, educational, or recreational values ​​are protected by the Italian Government in order to be preserved for the future.  Currently, in Italy there are 25 National Parks, covering an area of ​​over 1,500,000 hectares (15,000 km²), about 6% of the Italian territory.
Pollino National Park
Lucan Apennines, Agri Valley, Lagonegrese National Park

REGIONAL PARKS IN BASILICATA:
The Italian Regional Parks are land, river, lake, and sea areas facing the coast. Their value is being like a system including the nature of the places, art, ​​and cultural traditions of the local inhabitants. The Italian Regional Parks are more than 150 and cover an area of ​​approximately 1million and 500,000 hectares.
Murgia Materana Regional Park
Gallipoli Cognano – Piccole Dolomiti Lucane Regional Park

NATURE RESERVES IN BASILICATA:
Nature Reserves, also called Protected Natural Areas or Natural Oasis, their mission is to maintain their "equilibrium" by conserving and increasing biodiversity. These areas are characterized by heterogeneous landscapes and they are home to different species of animals and plants. They are the animal's shelter for reproduction. Hunting is prohibited. Actually Protected Natural Areas in Italy are more than 145.
In the Province of Matera:
Marinella Stornara Nature Reserve
Metaponto Nature Reserve
Monte Croccia Nature Reserve
In the Province of Potenza:
Agromonte Spacciaboschi Nature Reserve
Coste Castello Nature Reserve
Grotticelle Nature Reserve
I Pisconi Nature Reserve
Rubbio Nature Reserve

UNESCO GLOBAL GEOPARKS IN BASILICATA:
Unesco global Geoparks are natural areas of particular geo-mining interest representing the 4,600 million-year history of Planet Earth and the geological events that have shaped it. Geoparks' mission is to increase knowledge about the value of geo-diversity and to promote the conservation, tourism, and the popularization of the geological heritage. More than 100 Geoparks (Global Geoparks) are recognized worldwide in 33 countries, of which 69 in Europe. In Italy, there are 10 Unesco Geoparks.
Pollino Park

WWF NATURE RESERVES IN BASILICATA:
The WWF Oases are the first Italian network of protected areas managed by a private association. WWF activities in the Oases range from ecotourism to nature holidays, education, training, and environmental information programs. There are more than 100 WWF Oases in Italy, covering more than 30,000 hectares of land in 18 regions. They are visited by more than 500,000 people a year.
In the Province of Matera:
Bosco di Policoro
Lake San Giuliano
In the Province of Potenza:
Pantano di Pignola

BLUE FLAGS IN BASILICATA:
Blue Flag is an International recognition reserved for lakes or seaside tourist resorts that comply with sustainable land management criteria. The Blue Flag is awarded annually by the non-governmental and non-profit organization "Foundation for Environmental Education" (FEE). Only the localities whose waters have been excellent in the previous season can apply. In 2020, more than 195 municipalities and over 407 Italian beaches have been awarded as "Blue Flag".
In the Province of Matera:
Policoro – Lido lato Nord e Sud
In the Province of Potenza:
Maratea – Luppa/ Acquafredda

ORANGE FLAGS IN BASILICATA:
Orange Flag is a tourism-environmental quality mark awarded by the Italian Touring Club to small towns in the Italian inland (maximum 15,000 inhabitants) which stand out for their quality hospitality. The Orange Flag has been awarded to over 200 Italian municipalities.
In the Province of Matera:
Valsinni
In the Province of Potenza:
Guardia Perticara