Campania – Territory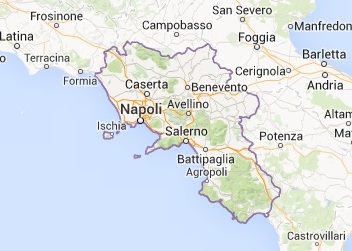 Campania's landscape is very distinctive: the Appennine mountains (Monti Picentini, Irpinia and Salento) are so green and very different from the volcanic relieves (Campi Flegrei and Vesuvio); there are also broad plains, like the Pianura Campana crossed by the most important river in the south of Italy (Volturno).
The Thyrrhenian Coast creates four gulfs: Gaeta, Napoli, Salerno and Policastro. Campania is also reach in natural parks, like the Cilento and Vallo di Diano National Park (Salerno) which is the second largest Italian park, inserted in MAB program by UNESCO as "Biosphere Reserve" to maintain natural and cultural beauties.
Archaeological sites of great value are spread all over the territory. Pompeii, the village covered by lava; Paestum, where you may see lots of findings coming from Magna Graecia; Herculaneum, twice covered by lava during I century BC. Here, according to the legends, Hercules rests in peace.
The Campanian Archipelago Island are the most beautiful and refined of the world: Capri, with its world-famous Piazzetta and the Faraglioni; Ischia, Nisida and the charming Procida (where "Il Postino" was shot, starring Massimo Troisi). These are authentic mediterranean pearls.
NATIONAL PARKS IN CAMPANIA:
The National Parks of Italy are natural areas of land, sea, river, or lake whose value is a well-preserved ecosystem. Thus their nature, together with their cultural, educational, or recreational values ​​are protected by the Italian Government in order to be preserved for the future.  Currently, in Italy there are 25 National Parks, covering an area of ​​over 1,500,000 hectares (15,000 km²), about 6% of the Italian territory.
Cilento, Vallo di Diano and Alburni National Park
Vesuvius National Park

REGIONAL PARKS IN CAMPANIA:
The Italian Regional Parks are land, river, lake, and sea areas facing the coast. Their value is being like a system including the nature of the places, art, ​​and cultural traditions of the local inhabitants. The Italian Regional Parks are more than 150 and cover an area of ​​approximately 1million and 500,000 hectares.
Diecimare Regional Park
Monti Picentini Regional Park
Monti Lattari Regional Park
Partenio Regional Park
Matese Regional Park
Roccamonfina – Foce Garigliano Regional Park
Taburno – Camposauro Regional Park
Campi Flegrei Regional Park
Sarno River Basin Regional Park

NATURE RESERVES IN CAMPANIA:
Nature Reserves, also called Protected Natural Areas or Natural Oasis, their mission is to maintain their "equilibrium" by conserving and increasing biodiversity. These areas are characterized by heterogeneous landscapes and they are home to different species of animals and plants. They are the animal's shelter for reproduction. Hunting is prohibited. Actually Protected Natural Areas in Italy are more than 145.
In the Province of Caserta:
Castelvolturno Nature Reserve
In the Province of Naples:
Cratere degli Astroni Nature Reserve
Vivara Island Nature Reserve
Tirone Alto Vesuvio Nature Reserve
In the Province of Salerno:
Ferriere Valley Nature Reserve

MARINE PROTECTED AREAS IN CAMPANIA:
Marine Protected Areas or Marine Reserves are stretches of the sea where sport fishing, professional fishing, scuba diving, the entry with motorboats, motorcycles, cars are prohibited or limited. And the abandonment of waste on the beaches is severely punished. The typology of these areas varies according to the protection constraints. There are more than 25 Italian Marine Protected Areas, covering an area of ​​approximately 222,442 hectares of sea.
Punta Campanella
Baia and its archeological parc under the water –  see >>>>
Costa degli Infreschi e della Masetta
Gaiola
Regno di Nettuno
Santa Maria di Castellabate

UNESCO BIOSPHERE RESERVES IN CAMPANIA:
The Unesco Biosphere Reserves are areas representing important land, sea, coast ecosystems in which the conservation of its biodiversity is associated with the sustainable use of natural resources for the benefit of local communities. The worldwide network of Biosphere Reserves includes 669 reserves in 120 countries on five continents, of which 16 Biosphere Reserves in Italy.
Cilento and Vallo di Diano
Somma-Vesuvio and Miglio d'Oro

UNESCO GLOBAL GEOPARKS IN CAMPANIA:
The Unesco global Geoparks are natural areas of particular geo-mining interest representing the 4,600 million-year history of Planet Earth and the geological events that have shaped it. Geoparks' mission is to increase knowledge about the value of geo-diversity and to promote the conservation, tourism, and the popularization of the geological heritage. More than 100 Geoparks (Global Geoparks) are recognized worldwide in 33 countries, of which 69 in Europe. In Italy, there are 10 Unesco Geoparks.
Cilento and Vallo di Diano National Park

WWF NATURE RESERVES IN CAMPANIA:
The WWF Oases are the first Italian network of protected areas managed by a private association. WWF activities in the Oases range from ecotourism to nature holidays, education, training, and environmental information programs. There are more than 100 WWF Oases in Italy, covering more than 30,000 hectares of land in 18 regions. They are visited by more than 500,000 people a year.
In the Province of Avellino:
Lake Conza
Caccia Valley
In the Province of Benevento:
Lake Campolattaro
Montagna di Sopra
In the Province of Caserta:
Bosco San Silvestro, inside the park of the Caserta Royal Palace
In the Province of Naples:
Cratere degli Astroni
In the Province of Salerno:
Grotte del Bussento
Persano

BLUE FLAGS IN CAMPANIA:
Blue Flag is an International recognition reserved for lakes or seaside tourist resorts that comply with sustainable land management criteria. The Blue Flag is awarded annually by the non-governmental and non-profit organization "Foundation for Environmental Education" (FEE). Only the localities whose waters have been excellent in the previous season can apply. In 2020, more than 195 municipalities and over 407 Italian beaches have been awarded as "Blue Flag".
In the Province of Naples:
Anacapri – Faro/Punta Carena, Gradola/Grotta Azzurra
Massa Lubrense – Baia delle Sirene, Marina del Cantone, Marina di Puolo, Recommone
In the Province of Salerno:
Agropoli – Torre San Marco, Trentova
Ascea – Piana di Velia, Torre del Telegrafo, Marina di Ascea
Capaccio – Varolato/La Laura/Casina d'Amato, Ponte di Ferro/Licinella, Torre di Paestum/ Foce
Acqua dei Ranci
Casal Velino – Dominella/Torre, Lungomare/Isola
Castellabate – lago Tresino, Marina Piccola, Pozzillo/San Marco, Punta Inferno, Baia Ogliastro
Centola – Marinella, Palinuro [Le Saline, le Dune, porto]
Montecorice – San Nicola, Baia Arena, Spiaggia Agnone, Capitello
Pisciotta – Ficaiola, Torraca, Gabella, Pietracciaio, Fosso della Marina, Marina Acquabianca
Pollica – Acciaroli, Pioppi
Positano – Spiaggia Arienzo, spiaggia Fornillo
San Mauro Cilento – Mezzatorre
Vibonati – Torre Villamare/Santa Maria Le Piane, Oliveto

ORANGE FLAGS IN CAMPANIA:
Orange Flag is a tourism-environmental quality mark awarded by the Italian Touring Club to small towns in the Italian inland (maximum 15,000 inhabitants) which stand out for their quality hospitality. The Orange Flag has been awarded to over 200 Italian municipalities.
In the Province of Benevento:
Cerreto Sannita
Sant'Agata de'Goti
In the province of Caserta
Letino
In the province of Salerno
Morigerati