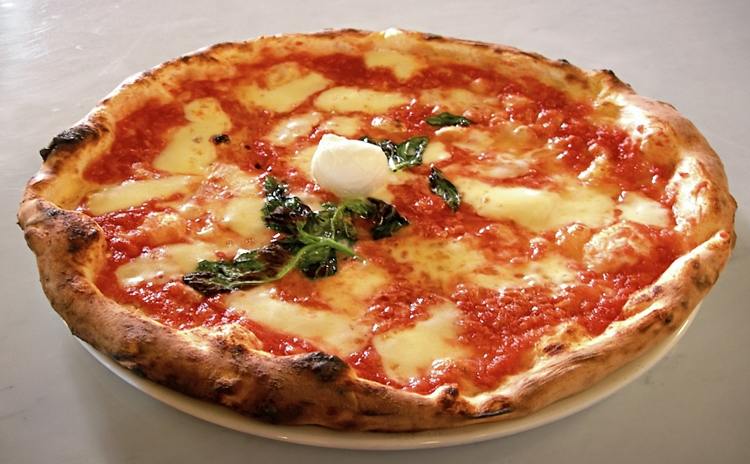 Campania – Food
This kind of cuisine is an explosion of flavors and colors. Influenced by Greeks, it is sensitively different province by province.
Typical products: Bufala mozzarella (Caserta), San Marzano Tomatoe, Sorrento nuts, Bagnoli Irpino truffle (Avellino), Anurca apple (Caserta).
Famous traditional dishes: pizza, calzone (fried stuffed pizza), caprese (cold appetizer made of slices of tomatoes, mozzarella and basil), pasta and in particular paccheri with neapolitan ragu (cow and pork meat is not chopped, but slow – cooked in slices into tomato sauce), gnocchi alla sorrentina (tomato sauce, mozzarella and basil) and parmigiana di melanzane (eggplant): every south italian region made its own version!
Desserts are very common and delicious: pastiera, (ricotta cheese, buckwheat and orange peel pie), "babà al rum", struffoli (small pastry balls, fried and dipped into honey), zeppole (fried dessert sprinkled with custard cream and sour black cherries, usually prepared during Saint Joseph in march), sfogliatelle (riccia, with puff pastry, or liscia with short pastry and filled with cream).
Campania boasts lots of great red wines and fine white wines, these in particular coming from volcanic areas (Campi Flegrei and Vesuvio).
One of the regional excellences is limoncello liquor, made of Sorrento's lemons, and Strega liquor, produced in Benevento and exported all over the world.
DOCG WINES IN CAMPANIA:
Aglianico del Taburno or Taburno
Fiano di Avellino (Apianum)
Greco di Tufo
Taurasi
DOC WINES IN CAMPANIA:
Aversa
Campi Flegrei
Capri
Castel San Lorenzo
Cilento
Costa d'Amalfi
Falanghina del Sannio
Falerno del Massico
Gallucio
Irpinia
Ischia
Penisola Sorrentina
Sannio
Vesuvio
Casavecchia di Pontelatone
SLOW FOOD PRESIDIA IN CAMPANIA:
Fresh and dried fruit:
Caiazzana Table Olive
Cilento Cracked Salella Olive
Cheeses and dairy products:
Cilento Cacioricotta
Roman Conciato
Legumes:
Cicerale chickpea
Acerra Dente di Morto bean
Casalbuono bean
Controne bean
Vairano Giant Lupin Bean
Lentiscosa Maracuoccio
Vegetables:
Neapolitan ancient tomato varieties
Paternopoli Aprilatico broccoli
Pertosa white artichoke
Castellammare Purple Artichoke
Alife onion
Neapolitan Papaccella
Fish, sea food and fish products:
Menaica Anchovies
Traditional Cetara Anchovy Extract
Breeds and animal husbandry:
Ischia cave rabbit
Meat products:
Vallo di Diano sausage and soppressata
Castelpoto red sausage
Gioi soppressata
ARK OF TASTE PRODUCTS (SLOW FOOD FOUNDATION) IN CAMPANIA:
Fresh and dried fruit:
Cilento White Monnato fig
Procida lemon
Sorrento lemon
Amalfi Sfusato lemon
Sant'Agata dei Goti Annurca apple
Limoncella apple
Caiazzana Table Olive
Cheeses and dairy products:
Alburni Caciocavallo Podolico
Statigliano Cacioforte
Carmasciano
Casoperuto
Agerola Fior di Latte
Manteca
Mozzarella in Myrtle
Bagnolese Pecorino
Monte Marzano Pecorino
Laticauda Pecorino
Castelcivita salted Ricotta
Legumes:
Zampognaro bean
Vairano Giant Lupin Bean
Zecchettella Bean
Vegetables:
Pertosa white artichoke
Priest's chestnut
Alife onion
Montoro onion
San Marzano tomato
Sorrentino tomato
Neapolitan long squash
Bread and baked goods:
Atellano Casatiello
Pasta:
Felitto Fusillo
Fish, sea food and fish products:
Nassa Shrimp
Pezzogna
Breeds and animal husbandry:
Cilentana Goat
Napoletana Goat
Black Casertano Pig
Bagnolese Sheep
Laticauda Sheep
Valfortorina Sheep
Agerolese Cow
Meat products:
Casavatore Ciccioli
Fortore ham
Pietraroja ham
Napoli salami
Vallo di Diano Soppressata and sausage
San Gregorio Magno Soppressata
Wines and grapes:
Asprinio d'Aversa
DOP PRODUCTS (Italian Protected Designation of Origin) IN CAMPANIA:
Cheeses and other animal products:
Caciocavallo
Campana Buffalo Milk Mozzarella
Monaco Provolone
Buffalo Milk Ricotta from Campania
Oils:
Cilento
Colline Salernitane
Irpinia – Colline dell'Ufita
Penisola Sorrentina
Terre Aurunche
Vegetables, fruit and cereals:
Nocerino spring onion
Cilento white fig
Piennolo del Vesuvio tomato
Agro Sarnese-Nocerino San Marzano tomato
Traditional Specialty Guaranteed:
Pizza Napoletana
IGP PRODUCTS (Protected Geographical Indication) IN CAMPANIA:
Meats and offal:
Central Apennine White Calf
Vegetables, fruit and cereals:
Paestum artichoke
Montella chestnut
Amalfi Coast lemon
Sorrento lemon
Roccadaspide chestnut
Melannurca Campana
Giffoni hazelnut
Pasta:
Gragnano Pasta