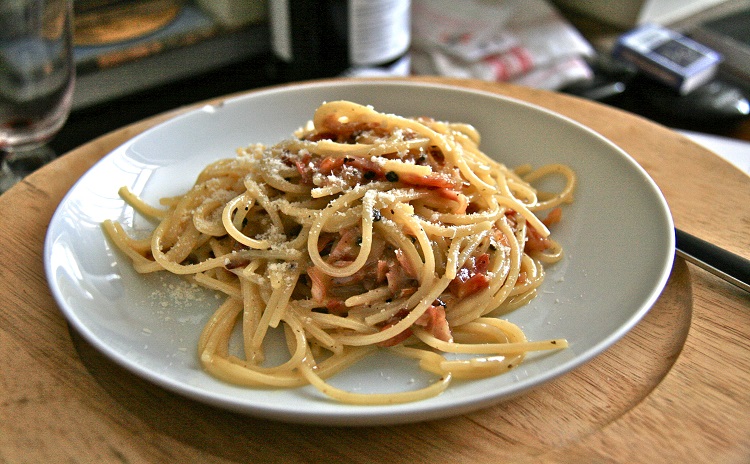 Rome – Food
Roman cooking is rustic, nourishing, vary taste with generous dishes. The main courses are the first dishes may be in broth or dry, always with vegetables and legumes.
Dishes realized with "quinto quarto" (fifth quarter) are typically roman. It means the offal, what's left of the beats after using the four noble quarters: tripe (top quality the "cuffia"), kidneys, heart, liver, spleen, sweetbreads (thymus glands and pancreas), brains and thongue. Ovins gives "coratella" (liver, lungs, heart) while pigs and calf provide trotters.
One of the most delicious first dishes is maid with fifth quarter: the rigatoni con la pajata, pasta with small intestine coming from milk calves, lamb or kid. Three great first courses: Spaghetti alla Carbonara (eggs, bacon, pepper and pecorino cheese); Bucatini all'Amatriciana (pork cheek, pecorino cheese and tomato sauce); Vermicelli Cacio e Pepe (coking water, pepper and pecorino cheese).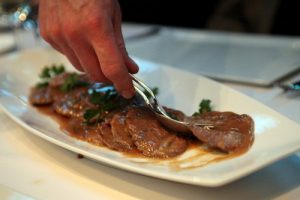 Others traditional dishes: coratella d'abbacchio with artichokes; roman tripe with mint and roman pecorino cheese; vaccinara's tale, saltimbocca alla romana (calf slices with ham and sage, cooked in butter and white wine); coppiette (meat stripes with salt and natural spices); supplì.

Vegetables are great: broccolo, artichokes, chicory, wild salade, "puntarelle".

Roman jewish cooking is famous thanks to fried artichockes "alla Giudia".

Ricotta and Pecorino are typical roman cheese. Many wines are produced in the area, but the most famous are: Bianco dei Castelli Romani, Marino, Frascati, Capena, Tarquinia and Velletri.