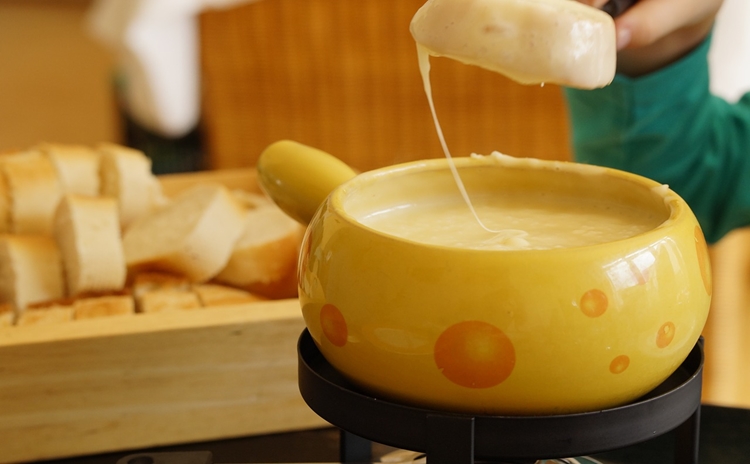 Valle D'Aosta – Food & Wines
Valle D'Aosta cuisine is characterized by mountain cereals instead of wheat and by butter and lard instead of olive oil. Famous also for meat (especially game), for fruit and vegetables like onions, potatoes, nuts, chestnuts, pippins and Martin Sec pears.
The most famous cheese is Fontina, used in lots of typical dishes. For example: polenta concia, polenta mixed with butter and fontina; fonduta, cheese melted in a special pot (called "caquelon") and served with croutons; zuppa alla valpellinentze, a soup made of Savoy cabbage, bacon, fontina and black bread.
Among the meat dishes: carbonada, stew mead with onions and spices; mocetta, deboned dried beef leg, usually spiced.
Blanc-manger, a pudding made of milk, is a very typical dessert in this region.
Despite the steep land, Aosta Valley produce lots of good wines, both white and red. 8 DOC wines: Valle d'Aosta, Blanc de Morget et de la Salle, Chambave, Nus, Arnad Montjovet, Torrette, Donnas, Enfer d'Arvier.
Genépy des Alpes is a famous and delicious liquor made of herbs.
DOC WINES IN VALLE D'AOSTA:
Valle d'Aosta o Vallèe d'Aoste
Blanc de Morget et de la Salle
Chambave
Nus
Arnad Montjovet
Torrette
Donnas
Enfer d'Arvier
SLOW FOOD PRESIDIA IN VALLE D'AOSTA:
Honey:
High Mountain Honeys
ARK OF TASTE PRODUCTS (SLOW FOOD FOUNDATION) IN VALLE D'AOSTA:
Meat products:
Boudeun
Cheeses and dairy products:
Réblèque
Gressoney Toma
DOP PRODUCTS (Italian Protected Designation of Origin) IN VALLE D'AOSTA:
Cheeses:
Fontina
Aosta Valley Fromadzo
Meat products:
Aosta Valley Jambon de Bosses
Aosta Valley Lard d'Arnad