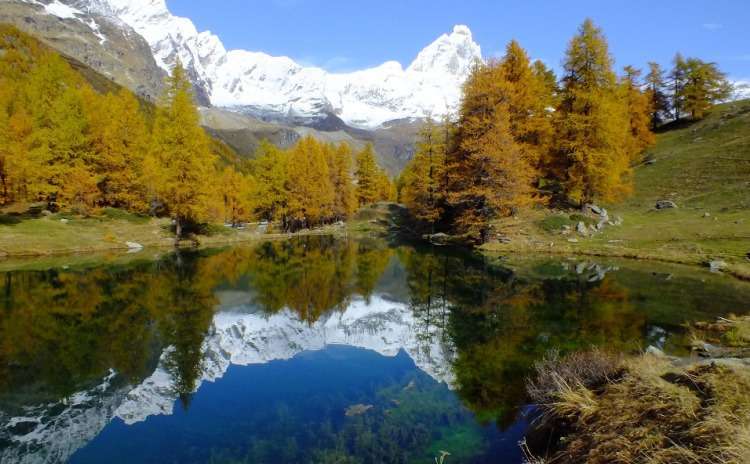 Valle D'Aosta – Territory
Valle d'Aosta is the smallest region of Italy and it is a charming place to find some of the most beautiful places in the Alps. The territory is protected by four of the tallest mountains in Italy: Mont Blanc, Monte Rosa, Cervino and Gran Paradiso.
The most important alpine passes are: Colle del Piccolo San Bernardo, which connects La Thuille valley and Val d'Isere in France; Colle del Gran San Bernardo, which connects the region with Martigny in Switzerland, and Mont Blanc Tunnel connecting Chamonix (France) with Courmayeur.
In the lower part of the region, you may find Gran Paradiso National Park.
The smallest region of Italy offers lots of opportunities to enjoy holidays in natural surroundings.
Cervinia, Courmayeur, Gressoney,  La Thuille and Cogne are some of the best italian skiing resorts. During the lovely season in the valley of Monte Rosa or in Pavillon du Mont Fréty Natural Reserve you may mountaineering, climbing, trekking, parachuting, hang-gliding, rafting, canyoning at amateur or professional level. Or if you are not so keen into sport, you may go walking or mountain biking, and even touring arount Mont Blanc with a hot-air-baloon.
Valle d'Aosta also means history and art. You may be surprised by the perfect conditions of evidences of an ancient past: prehistoric megaliths, remains of roman domination, over 100 medieval castles like Issogne, Savoia, Fenis, Bard and Saint-Pierre, towers and fortresses often turned into Renaissance residences, lots of Romanesque and Baroque churches. History and art lovers may follow Gauls' ancient road (antica via delle Gallie) or the fascinating Via Francigena. It is also possible to admire biblical scenes on the capitals of Chiostro di Sant'Orso, the frescos in Aosta's Cathedral and the reliquiary of San Grato, a great example of goldsmith's art.

NATIONAL PARKS IN VALLE D'AOSTA:
The National Parks of Italy are natural areas of land, sea, river, or lake whose value is a well-preserved ecosystem. Thus their nature, together with their cultural, educational, or recreational values ​​are protected by the Italian Government in order to be preserved for the future.  Currently, in Italy there are 25 National Parks, covering an area of ​​over 1,500,000 hectares (15,000 km²), about 6% of the Italian territory.

REGIONAL PARKS IN VALLE D'AOSTA:
The Italian Regional Parks are land, river, lake, and sea areas facing the coast. Their value is being like a system including the nature of the places, art, ​​and cultural traditions of the local inhabitants. The Italian Regional Parks are more than 150 and cover an area of ​​approximately 1million and 500,000 hectares.

ORANGE FLAGS IN VALLE D'AOSTA:
Orange flag is a tourism-environmental quality mark awarded by the Italian Touring Club to small towns in the Italian inland (maximum 15,000 inhabitants) which stand out for their quality hospitality. The Orange Flag has been awarded to over 200 Italian municipalities.
In the Province of Aosta:
Etroubles