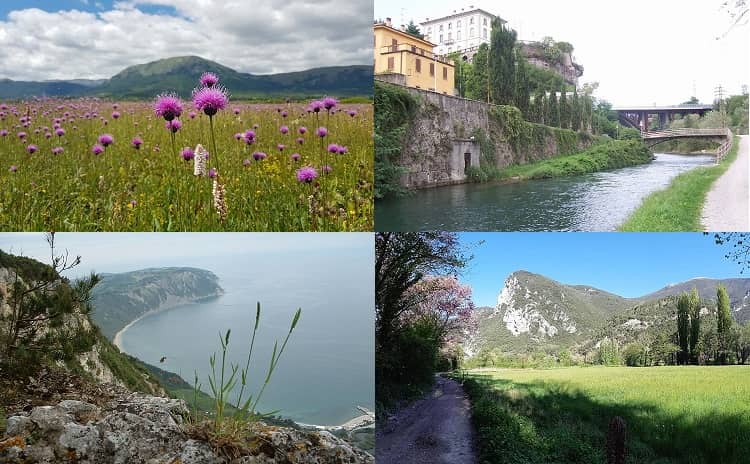 A cycling adventure throughout Italy
Italy is a country rich in history and culture but also in many natural and archaeological beauties.
The vast network of cycle paths enables enthusiasts to cycle between villages, archaeological sites, historical places, rivers and valleys and even to stop along the way.
Cycling is a new way to travel and discover the lesser-known Italian territories.
There are many cycle paths that already exist and are accessible, within everyone's reach and scattered throughout many Italian regions.
Abruzzo
– Sirente-Velino Regional Natural Park – a protected natural area of ​​56,400 hectares with cycling paths in the province of L'Aquila

Emilia Romagna
– Destra Po Cycle Path – 124 kilometers in the nature of the Po Delta, up to the sea, all in the province of Ferrara
– Mirandola-Bologna Cycle Path – 46 km between villages, canals and old abandoned stations between Modena and Bologna
Lombardy
– Naviglio Martesana, 36 km of a cycle-pedestrian path on the Canal, within everyone's reach. Starting from Milan
– Oglio River Cycle Path, a 280 km cycle path starting from the Tonale Pass and crossing 4 provinces of Lombardy
Marche
– Conero Park, 18 trails that can be visited on foot or by mountain bike in Ancona
Piedmont
– Strada dell'Assietta, a 60 km high-mountain trail between Val Chisone and Val di Susa. Challenging
Tuscany
– Bonifica Path, 62 km of cycle and footpath between Arezzo and Chiusi>>>
Umbria
– Nera Cycle Path, 28 km cycle path suitable for everyone between nature and historic villages
– Assisi-Spoleto-Norcia Cycle Path, a 105 km cycle path connecting Assisi to the former Spoleto-Norcia railway
Veneto
– Regional Natural Park of Sile, 95 km along the river. paths by bike, on foot, by canoe
Cover photo from above, from left to right: Sirente-Velino Regional Natural Park, Naviglio della Martesana, Conero Park, Nera Cycle Path
CYCLING IS YOUR PASSION?
Maybe you don't know that in Novi Ligure there is the Cycling Champions' Museum dedicated to Fausto Coppi and Costante Girardengo. The museum tells the story of bicycles and cycling>>>