Abruzzo – Territory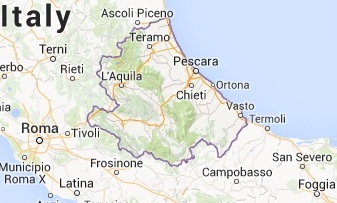 Abruzzo is known for Gran Sasso (the highest peak of the entire Appennines, almost 3.000 mt, including Calderone Glacier, the second southernmost in Europe) and for gold sand Adriatic beaches.
The Italian region with the largest number of parks and protected areas. That's why it is also known as "the green lung of Italy".
In Abruzzo National Park, Gran Sasso and Monti della Laga National Park, Maiella National Park and Sirente Velino Regional Park it is possible to meet rare animals and plants. Many activities may be performed in these Parks as well: horse riding, canopy tours through the trees, canoeing, biking and birdwatching.
Lakes offer lots of activities too: you may row on Bomba Lake, or you may take a swim in Scanno Lake and Campotosto Lake.
Along the coast of Adriatic sea, Pescara and other places received the "Blu Flag" recognition that awards clean beaches and clear sea water.
A 130 km cycle path goes along the entire riviera, crossing each village.
There are a lot of religious routes leading to evocative places of worship, like the famous Hermitages of Celestino V, located between the wild rocks of Maiella and Morrone, and like lots of romanesque abbeys.
NATIONAL PARKS IN ABRUZZO:
The National Parks of Italy are natural areas of land, sea, river, or lake whose value is a well-preserved ecosystem. Thus their nature, together with their cultural, educational, or recreational values ​​are protected by the Italian Government in order to be preserved for the future.  Currently, in Italy there are 25 National Parks, covering an area of ​​over 1,500,000 hectares (15,000 km²), about 6% of the Italian territory.
Abruzzo, Lazio and Molise National Park
Gran Sasso and Monti della Laga National Park
Majella National Park

REGIONAL PARKS IN ABRUZZO:
The Italian Regional Parks are land, river, lake, and sea areas facing the coast. Their value is being like a system including the nature of the places, art, ​​and cultural traditions of the local inhabitants. The Italian Regional Parks are more than 150 and cover an area of ​​approximately 1million and 500,000 hectares.
Sirente Regional Park – Velino – see >>>

NATURE RESERVES IN ABRUZZO:
Nature Reserves, also called Protected Natural Areas or Natural Oasis, their mission is to maintain their "equilibrium" by conserving and increasing biodiversity. These areas are characterized by heterogeneous landscapes and they are home to different species of animals and plants. They are the animal's shelter for reproduction. Hunting is prohibited. Actually Protected Natural Areas in Italy are more than 145.
In the Province of Chieti:
Fara San Martino Palombaro Nature Reserve
Feudo Ugni Nature Reserve
Quarto Santa Chiara Nature Reserve
In the Province of L'Aquila:
Colle di Licco Nature Reserve
Lake Campotosto Nature Reserve
Feudo Intramonti Nature Reserve
Pantaniello Nature Reserve
Monte Rotondo Nature Reserve
Monte Velino Nature Reserve
In the Province of Pescara:
Lama Bianca di Sant'Eufemia a Maiella Nature Reserve
Piana Grande della Majelletta Nature Reserve
Santa Filomena Pine Forest Nature Reserve
Orfento Valley Nature Reserve
Orfento Valley II Nature Reserve

MARINE PROTECTED AREAS IN ABRUZZO:
Marine Protected Areas or Marine Reserves are stretches of the sea where sport fishing, professional fishing, scuba diving, the entry with motorboats, motorcycles, cars are prohibited or limited. And the abandonment of waste on the beaches is severely punished. The typology of these areas varies according to the protection constraints. There are more than 25 Italian Marine Protected Areas, covering an area of ​​approximately 222,442 hectares of sea.
Torre del Cerrano

WWF NATURE RESERVES IN ABRUZZO:
The WWF Oases are the first Italian network of protected areas managed by a private association. WWF activities in the Oases range from ecotourism to nature holidays, education, training, and environmental information programs. There are more than 100 WWF Oases in Italy, covering more than 30,000 hectares of land in 18 regions. They are visited by more than 500,000 people a year.
In the Province of Chieti:
Rio Verde Waterfalls
Lake Serranella
In other Provinces:
Gole del Sagittario (L'Aquila)
Lake Penne (Pescara)
Calanchi di Atri (Teramo)

BLUE FLAGS IN ABRUZZO:
Blue flag is an International recognition reserved for lakes or seaside tourist resorts that comply with sustainable land management criteria. The Blue Flag is awarded annually by the non-governmental and non-profit organization "Foundation for Environmental Education" (FEE). Only the localities whose waters have been excellent in the previous season can apply. In 2020, more than 195 municipalities and over 407 Italian beaches have been awarded as "Blue Flag".
In the Province of Chieti:
Fossacesia –  Fossacesia Marina
San Salvo – San Salvo Marina/Zona Fosso Molino
Vasto – Punta Penna, Vignola
In the Province of Teramo:
Silvi – lungomare centrale / Arenile sud
Pineto – lungomare dei Pini/Pineta Catucci
Tortoreto – Spiaggia del Sole

ORANGE FLAGS IN ABRUZZO:
Orange Flag is a tourism-environmental quality mark awarded by the Italian Touring Club to small towns in the Italian inland (maximum 15,000 inhabitants) which stand out for their quality hospitality. The Orange Flag has been awarded to over 200 Italian municipalities.
In the Province of L'Aquila:
Civitella Alfedena
In the Province of Chieti:
Fara San Martino
Lama dei Peligni
Palena
Roccascalegna