Abruzzo – Territory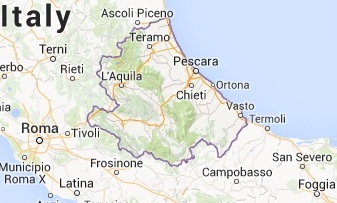 Abruzzo is known for Gran Sasso (the highest peak of the entire Appennines, almost 3.000 mt, including Calderone Glacier, the second southernmost in Europe) and for gold sand Adriatic beaches.
Abruzzo is the Italian region with the largest number of parks and protected areas. That's why it is also known as "the green lung of Italy".
In Abruzzo National Park, Gran Sasso and Monti della Laga National Park, Maiella National Park and Sirente Velino Regional Park it is possible to meet rare animals and plants. Many activities may be performed in these Parks as well: horse riding, canopy tours through the trees, canoeing, biking and birdwatching.
Lakes offer lots of activities too: you may row on Bomba Lake, or you may take a swim in Scanno Lake and Campotosto Lake.
Along the coast of Adriatic sea, Pescara and other places received the "Blu Flag" recognition that awards clean beaches and clear sea water.
A 130 km cycle path goes along the entire riviera, crossing each village.
There are a lot of religious routes leading to evocative places of worship, like the famous Hermitages of Celestino V, located between the wild rocks of Maiella and Morrone, and like lots of romanesque abbeys.
NATIONAL PARKS IN ABRUZZO:
Abruzzo, Lazio and Molise National Park
Gran Sasso and Monti della Laga National Park
Majella National Park
REGIONAL PARKS IN ABRUZZO:
Sirente Regional Park – Velino
NATURE RESERVES IN ABRUZZO:
In the Province of Chieti:
Fara San Martino Palombaro Nature Reserve
Feudo Ugni Nature Reserve
Quarto Santa Chiara Nature Reserve
In the Province of L'Aquila:
Colle di Licco Nature Reserve
Lake Campotosto Nature Reserve
Feudo Intramonti Nature Reserve
Pantaniello Nature Reserve
Monte Rotondo Nature Reserve
Monte Velino Nature Reserve
In the Province of Pescara:
Lama Bianca di Sant'Eufemia a Maiella Nature Reserve
Piana Grande della Majelletta Nature Reserve
Santa Filomena Pine Forest Nature Reserve
Orfento Valley Nature Reserve
Orfento Valley II Nature Reserve
MARINE PROTECTED AREAS IN ABRUZZO:
Torre del Cerrano
WWF NATURE RESERVES IN ABRUZZO:
In the Province of Chieti:
Rio Verde Waterfalls
Lake Serranella
In other Provinces:
Gole del Sagittario (L'Aquila)
Lake Penne (Pescara)
Calanchi di Atri (Teramo)
BLUE FLAGS IN ABRUZZO:
In the Province of Chieti:
Fossacesia –  Fossacesia Marina
San Salvo – San Salvo Marina/Zona Fosso Molino
Vasto – Punta Penna, Vignola
In the Province of Teramo:
Silvi – lungomare centrale / Arenile sud
Pineto – lungomare dei Pini/Pineta Catucci
Tortoreto – Spiaggia del Sole
ORANGE FLAGS IN ABRUZZO:
In the Province of L'Aquila:
Civitella Alfedena
In the Province of Chieti:
Fara San Martino
Lama dei Peligni
Palena
Roccascalegna