The Garden of Tarot – Capalbio
April-October. The statues of the Tarots Major Arcana in a garden with an esoteric fascination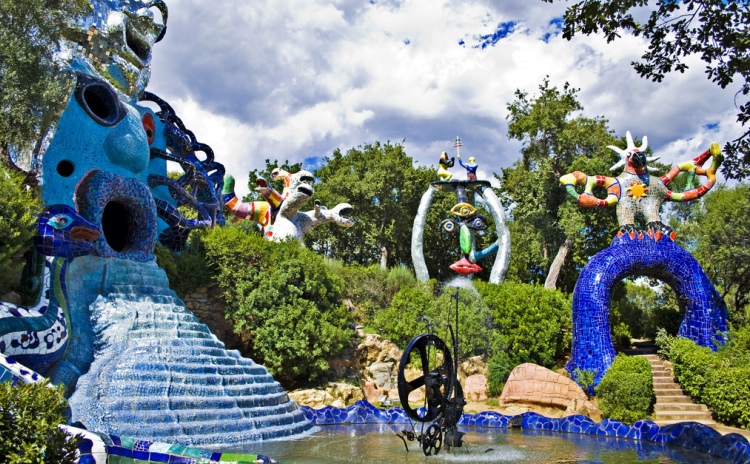 The Tarot Garden is a 2-hectare artistic park located in the Tuscan Maremma in Garavicchio, a small village close to Capalbio and Pescia Fiorentina.
The park has been created by the Franco-American artist Niki de Saint Phalle and is famous for the 22 gigantic and grotesque statues inspired by the Major Arcana of the Tarots, making the garden a symbolic place of esoteric charm.
The artist was certainly influenced by Antoni Gaudí's Parque Guell in Barcelona and by the Monster Park in Bomarzo (Viterbo) which inspired the imposing figures in steel and concrete covered with glass, mirrors and colored ceramics in a triumph of colorful creativity and free from constraints.
In the intense and very lively colors and in the expansion of the forms they recall the brightness of the masters of chromatism, from Matisse to Picasso, from Kandinskij to Klee.
The construction of the park took 17 years and many famous artists of contemporary art have collaborated in its realization, some only out of friendship.
Some names are really important like Rico Weber, Sepp Imhof, Paul Wiedmer, Dok van Winsen, Pierre Marie and Isabelle Le Jeune, Alan Davie, Marino Karella and others.
The architect Mario Botta, in collaboration with the Grosseto architect Roberto Aureli, designed the majestic entrance pavilion.
Completed in the summer of 1996, the Tarot Garden cost about 10 billion lire, entirely self-financed by the author.
In 1997 Niki de Saint Phalle established the Il Giardino dei Tarocchi Foundation to preserve and maintain the work. On May 15, 1998 the Tarot Garden was opened to the public.
Critics and the world of art were unanimous in recognizing the Tarot Garden as a unique work of its kind and of great value.
But the real success is the amazement of the visitors who are fascinated by the imagination expressed by the large colored sculptures in the garden.
By de will of Niki de Saint Phalle, there are no guided tours in order to leave each visitor the freedom to interpret the sculptures
USEFUL INFORMATION
Opening hours: From April 1st to October 15th, every day from 2.30 to 7.30 pm
Tickets need to be purchased online>>>

(cover photo from the Garden of Tarot website)
Do you love art in the open air?  110 km far away there is also the Daniel Spoerri Garden where you may see more than 100 artworks made by international artists>>>
More Information >>>