La Fenice Theater – Venice
One of the most important, famous and fascinating opera houses in Italy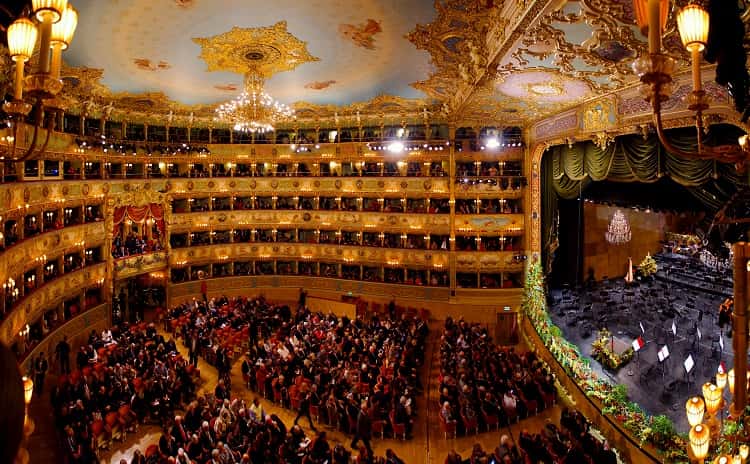 Gran Teatro La Fenice is located in San Marco Sestiere and is the main opera house in Venice and one of the most prestigious theaters in the world.
Built in 1792, destroyed and rebuilt twice, over the centuries it has hosted important opera and symphonic seasons and the International Festival of Contemporary Music.
In the nineteenth century, the theater was the site of numerous world premieres by Gioachino Rossini, Gaetano Donizetti, Giuseppe Verdi and in the twentieth century it hosted the world premieres of Igor Stravinskij, Sergej Prokofiev, Karlheinz Stockhausen and Claudio Ambrosini.
The visit among the stuccos and golds of the prestigious rooms allows visitors to discover the background and the secrets of the Grand Theater and its protagonists, retracing its history from 1792 till today.
In the costume shop of La Fenice Theather, visitors can admire stage clothes, sketches, mannequins and models narrating the history of theatrical production.
Maria Callas – The Theater has also dedicated a permanent exhibition dedicated to Maria Callas and her years of activity in Venice.
Each year the theater hosts the traditional New Year's Concert.
USEFUL INFORMATION
Opening hours: everyday from 9:30 am to 6 pm
Entrance with a fee
For information and reservations please call +39 041 272 2699 or send an email>>>
It is recommended to wear a safety mask and to keep an interpersonal distance of at least 1 meter.

Follow also the Facebook page of the theater
AND AFTER THE VISIT?
A good occasion to taste the traditional food of Veneto>>> and try also its excellent wines>>>
See also what else to visit and what events take place in Veneto>>>
OPERA IS YOUR PASSION?
See other museums dedicated to opera in Italy. But also festivals and opera seasons…>>>
Photos from Wikipedia
Di Youflavio – Opera propria, CC BY-SA 4.0,
Di Pietro Tessarin – Opera propria, CC BY-SA 4.0,
Di Pietro Tessarin – Opera propria, CC BY-SA 4.0,
Di Photo: Andreas Praefcke – Fotografia autoprodotta, CC BY 3.0,

More Information >>>