The Feast of Celestinian Forgiveness – L'Aquila
August 23rd-30th 2020 – The Feast of Forgiveness and Historical parade in costume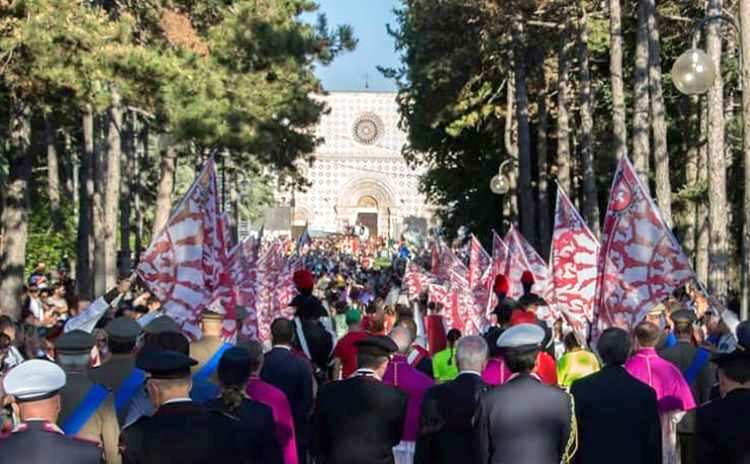 From August 23rd to 30th 2020, the city of L'Aquila celebrates the Feast of Celestinian Forgiveness (Perdonanza Celestiniana), a historical and religious feast reaching this year its 726th edition.
The feast draws back to the bull issued by Pope Celestine V in 1294 granting a plenary indulgence to all pilgrims visiting Santa Maria di Collemaggio Church between August 28 and 29.
The Feast of Celestinian Forgiveness is considered to be a forerunner of the Jubilee.
The commemoration involves a historical parade with folkloric costumes going from Margherita Palace to Santa Maria di Collemagno Church. There are three symbolic figures in the parade: the Bull Lady ( the woman carrying the ancient Papal Bull) the Young Lord (carrying an olive branch to open the Holy Door) and the Cross Lady ( cross that is offered to the Cardinal who opens the door).
In front of the church takes place the ceremony where the mayor reads to the citizens the bull and a Cardinal, chosen from the Holy See, knocks on the door three times with the olive branch. This way he can let the citizens in.
After the parade, there is a live concert hosting Italian and European artists.
(Photos from the official Facebook page)
More Information >>>