Sirente-Velino Regional Natural Park – L'Aquila
A protected natural area of ​​56400 hectares. Flowers, animals, cycle and footpaths. Winter sports.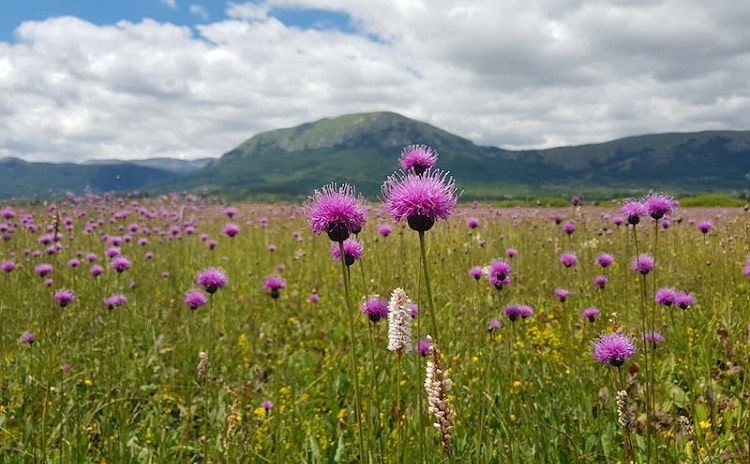 Sirente-Velino Regional Natural Park* , located in the province of L'Aquila, is a protected natural area of ​​56400 hectaes  mainly mountainous and wild, with 7 peaks above 2000 meters: Monte Velino, Cafornia, Monte Sirente, Magnola, Rotondo, Cagno, Serra di Celano.
Sirente Velino park is crossed by 3 rivers: Aterno river, Rio Gamberale, Torrente Foce.
In the park there are several wildlife and environmental visit centers:
– Chamois Visitor Center and wildlife area
– Capriolo Visitor Center
– Museum of Moon Visitor Center
– Visitor Center Oriented Natural Reserve "Monte Velino"
In the area of Sirente Velino Park there is a network of naturalistic itineraries, places of religious and cultural interest offering the possibility to discover the Abruzzo territory: from the rural churches to the charming medieval hamlets, from the superb watchtowers to the plateaus, from Stiffe Caves up to the enchanting Celano Gorges.
The park also offers the chance to practice various sports activities such as cycling, horse riding, Nordic walking, trekking, snowshoeing, ski touring thanks to various slopes and ski facilities.
Flora and fauna
The flora in the park is very assorted and some rare types of plants and flowers can also be found: Eugene violet, Holly, Anemone, Armeria, Belladonna, Birch, Hawthorn, White hornbeam, black Hornbeam, Turkey oak, Beech, mezereum, buckthorn, ash, gentian, juniper, narcissus, Apennine edelweiss, lime tree.
Among the plants, it is interesting to observe the remains of glacial vegetation such as: the Saxifraga. In the woods prevail beech and birch trees.
The fauna is also very rich, the park hosts more than 200 species, including large animals: Apennine wolf, Marsican brown bear, deer, roe deer but also porcupine, fox, wild cat and wild boar.
Among the birds, visitors can admire golden eagle, buzzard, black kite, sparrow hawk, kestrel, raven, eagle owl, green woodpecker, griffin.
The park territory touches 22 municipalities: Acciano, Aielli, Castel di Ieri, Castelvecchio Subequo, Celano, Cerchio, Collarmele, Fagnano Alto, Fontecchio, Gagliano Aterno, Goriano Sicoli, Magliano de 'Marsi, Massa d'Albe, Molina Aterno, Ocre , Ovindoli, Pescina, Rocca di Cambio, Rocca di Mezzo, Secinaro, Tione degli Abruzzi.
How to reach Sirente Velino Park
From A25 Rome-Pescara highway and A24 Rome-L'Aquila-Teramo highway.
Exits: Magliano de 'Marsi, Avezzano, Aielli-Celano, L'Aquila.
(Photos from the website of the park)
The Italian Regional Parks
The Italian Regional Parks include areas of land, sea, rivers overlooking the banks. Their environs have a great cultural and naturalistic value, representing a homogeneous natural system of landscape and of cultural traditions of the local populations. In Italy there are 154 regional parks covering an area of ​​approximately 1 million and 500,000 hectares.
Still feeling like cycling?
Discover a selection of cycle paths and cycle routes in Italy>>>
And if after the journey you feel hungry, try traditional wines and food from Abruzzo!  Click here>>>
More Information >>>