The Sassi of Matera
The ancient cave dwellings, a UNESCO World Heritage Site since 1993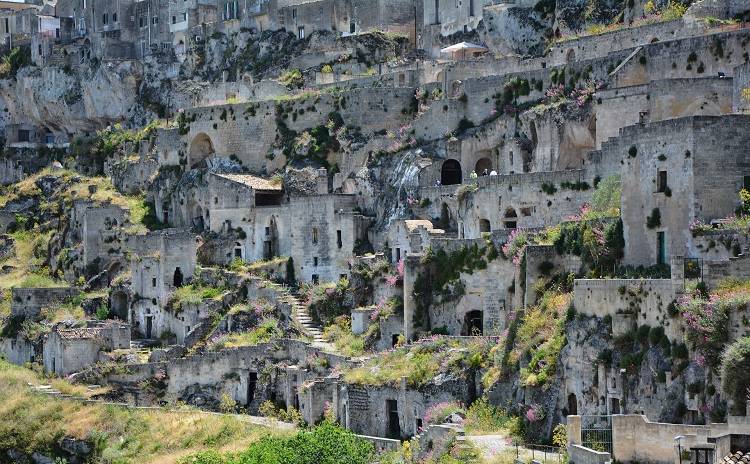 The Sasso Caveoso and the Sasso Barisano – the so-called "Sassi of Matera" – are the oldest settlements that make up the historic center of Matera together with the Civita district, built on the cliff that separates the two Sassi where the Romanesque Cathedral is located.
At the foot of the Civita and at the upper edge of the Sassi is the Piano, the post-medieval historic center, beyond which the current city of Matera extends.
The Sassi are arranged on and around the bottom of two valley furrows, shaped by the passage of water. They were houses partly dug and partly built on top of each other in the limestone rock of the ravines (hence the characteristic whitish color).
Although undergoing partial transformations, the "Sassi" were inhabited in alternating phases from the Palaeolithic to the 1960s, when they were definitively abandoned due to its unhealthy living conditions.
The Sassi of Matera are a real open-air museum and along the Gravina visitors can still see caves, ancient hermitages and limestone churches.
There are many access roads: paths and stone streets leading from the Piano to the original neighborhoods.
In 1993 the Sassi were named a UNESCO World Heritage Site.
The Sassi of Matera have also hosted several movie sets. Among these The Gospel according to St. Matthew by Pier Paolo Pasolini (1964), The Star Maker by Giuseppe Tornatore (1995), "The Passion of the Christ" by Mel Gibson (2004), Ben Hur by Timur Bekmambetov (2016), Fast as the Wind by Matteo Rovere (2016)
In recent years some Sassi have been brought to a new life with the renovation of the old unhealthy caves where the poorest inhabitants of Matera lived to become small charming hotels with great personality.
In 2019 the city of Matera was named European Capital of Culture.

ARE YOU IN MATERA?
Visiting the Sassi of Matera, stop by to visit the interesting Casa Noha, an immersive journey to discover the history of Matera>>>
DO YOU WANT TO KNOW HOW MANY AND WHICH ARE UNESCO SITES IN ITALY?
Italy is the country with the largest number of UNESCO sites: there are 58 sites in all regions. See which and where they are>>>
More Information >>>