A Naca (The Cradle) – Catanzaro
April 7th, 2023. A religious parade that dates back to 1600.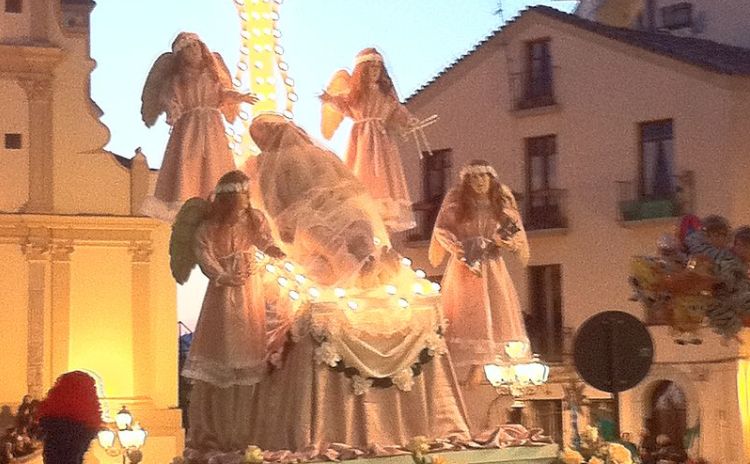 On Holy Friday – April 7th,2023 – it takes place in Catanzaro a religious celebration that dates back to 1600: the Naca (a dialect word which means "the cradle", from the Greek word nachè)
The celebration begins on Thursday when the Confratelli (members of a brotherhood), with their head encircled by a braided crown of wild asparagus, visit the Sepulchres while they bring on their shoulders, in turn, a Penitentiary Cross.
The Naca is the cradle in which the statue of Dead Jesus is collocated. It's a majestic structure decorated with damasks, silk and flowers. On the cradle, there are 4 or more angels made with papier-maché with the symbol of the Passion, in front of a big illuminated cross.
The parade goes along the street of the town and the Naca is carried on the shoulders by the Firemen.  It's preceded by the flags of the Brotherhoods of the city (of the Saints Giovanni Battista and Evangelist, of the Carmine Immaculate and of Rosario) and it's followed by the penitentiary crosses.
The "Cradle" is followed by the Madonna Addolorata (Grieved Virgin Mary) represented by a heart pierced with 7 swords, that symbolize the 7 pains of Mary.
source photo: Wikipedia – Emanuele 1982

ARE YOU INTERESTED IN EASTER RITUALS?
See further Easter and traditional religious events in Italy>>>
More Information >>>