Cycle Path in the Pollino Park (Cosenza)
First route of 34 km of a 545 km long cycle path along the Calabrian Apennines.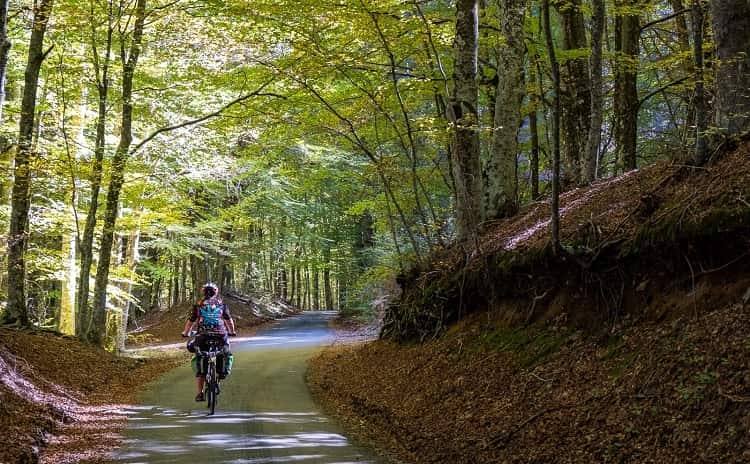 The Cycle Path in the Pollino Park is the first STEP of the 545 kilometers-long Calabria Parks Cycle Path, a cycle path crossing 4 protected areas: the Aspromonte National Park, the Sila National Park, the Pollino National Park and the Natural Regional Park of Serre.
The route in the Pollino National Park winds for 34 km on the Apennine ridge. It starts in Laino Borgo, a small town that preserves the ruins of the ancient Lombard fortress, crosses Laino Castello, reaches Mormanno and passes the Lavender Farm. Once visitors rise up the Serra mountain to the Fortino at 1050 meters above sea level, they will arrive in Morano Calabro, a charming medieval village in semicircles also known as the Nativity Scene of Pollino Park, listed among Italy's most beautiful villages in Italy.
The Calabria Parks Cycle Path, which also includes the route in the Pollino, is divided into 12 stages to discover the Calabrian landscapes and nature between the Tyrrhenian and Ionian Seas and passes mainly on old provincial roads with little traffic. In 2021 also received theItalian Green Road Award.
The Pollino National Park
The Pollino National Park, where the route of the first stage winds its way, is located between Basilicata and Calabria regions between the provinces of Cosenza, Potenza and Matera, and is the largest national park in Italy. Since 2015 it has been a UNESCO World Heritage Site for the vast biodiversity of flora and fauna, for the unspoiled landscapes with peaks that exceed 2,000 meters and which allow visitors to broaden their gaze to both the Ionian and Tyrrhenian coasts.
Cover Photo credit: by Ciclovia Facebook page: Daniele Carletti – BeCycling
Still feeling like cycling?
Discover a selection of cycle paths and cycle routes in Italy>>>
And if after the journey you feel hungry, try traditional wines and food from Calabria!  Click here>>>
More Information >>>