Affruntata – Bagnara Calabra
April 9th, 2023 Religious and popular feast celebrated every year on Easter.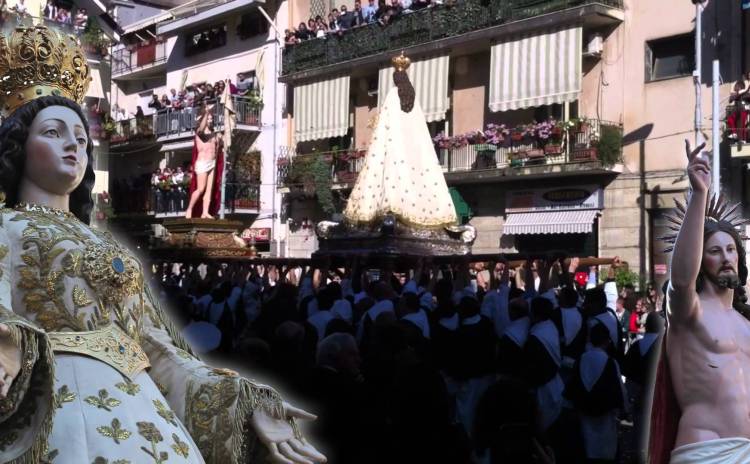 On Easter Sunday (April 9th, 2023) a religious and popular feast takes place in Italy every year in many municipalities in the province of Reggio Calabria.
Affruntata celebrates the gathering between the Virgin Mary and Christ Resurrected. It sn't just a procession, but also a theatrical representation in which the sacred statues (of the Virgin Mary, Saint John and Christ Resurrected), are the main characters, carried by shoulder by the citizens.
The three statues follow different paths and they meet together in different moments: the statues of the Virgin Mary and Saint John are the ones who gather first symbolizing the announcement of the resurrection issue.
The topic of the feast is when the two statues reach the statue of Christ Resurrected. Affruntata means, indeed, the meeting of Mary with his son, when the two statues are located in front of one another in the same street.
This is the moment full of passion that establishes the end of the event.
Affruntata takes place in many municipalities in the province of Reggio Calabria: in Briatico, Cinquefrondi, Cittanova, Polistena, Roccella Ionica, Sant'Onofrio, Vibo Valentia…
ItalybyEvents is not responsible for any change of programs
For information call the municipality of Bagnara Calabra +39 0966 374011

ARE YOU INTERESTED IN EASTER RITUALS?
Look at a selection of Easter rituals and religious celebrations in Italy>>>
Continuously updated list