Millennial Plane Tree of Curinga
The largest and oldest plane tree in Italy, in Calabria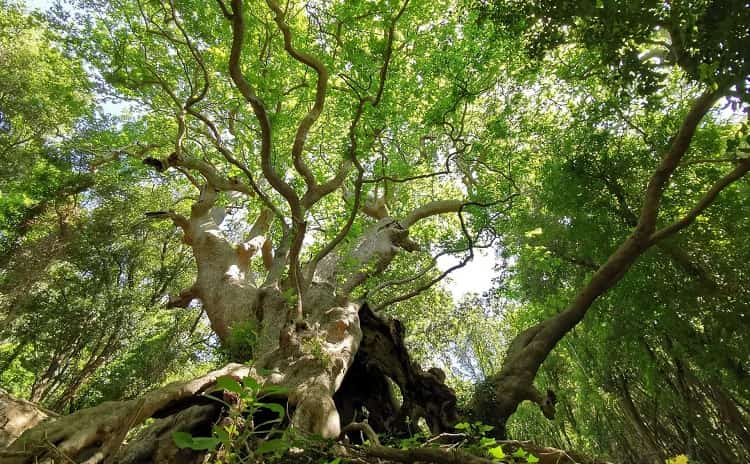 The Millennial Plane Tree of Curinga is the largest plane tree in Italy and is located in Curinga, a small town in the province of Catanzaro, in the Calabria region.
About 1000 years is the estimated age of this majesty, but the roots could be even older. The plane tree is located near the ruins of the Hermitage of Sant'Elia Vecchio in a black pine forest. The construction of the hermitage dates back to the 9th century by the Basilian monks.
According to legend, it is said that it was a monk to plant the tree. For the inhabitants of Curinga, the tree is the "Gentle Giant", with its imposing height of 31.5 meters.
The trunk circumference of 14.75 meters is completely hollow with an opening of over three meters, capable of hosting more than ten people. It was a meeting point for peasants and shepherds, a shelter against the elements for entire flocks, and a hiding place for bandits. Upon entering, visitors have the feeling of being inside a magical wooded cave.
Today the Millennial Plane Tree of Curinga has become a tourist attraction and it is particularly nice to arrive in the evening because from there visitors can admire the splendid sunset over the Tyrrhenian Sea with a view of the Aeolian Islands and Stromboli.
The "Gentle Giant" of Curinga, already winner of the Italian Tree 2020 Award, also won second place among 78,000 candidates as the European Tree of the Year in Tree of the Year 2021, the annual competition organized by the Environmental partnership association, which every year rewards the tree with the most interesting story.
The aim of the European competition is to emphasize the importance of old trees as a natural and cultural heritage to be valued and protected.
See also the Facebook page of the Millennial Plane Tree of Curinga>>>
ARE YOU IN CALABRIA?
See other events and places to visit Calabria>>>
Do you know the traditional dishes and typical Calabrian products? Click here>>>
Photos from the page of the Millennial Plane Tree of Curinga on the Giant Trees website>>>
More Information >>>