Casatiello Fair – Sant'Arpino
June 16-18, 2023. In the province of Caserta, the Casatiello cake and all its variations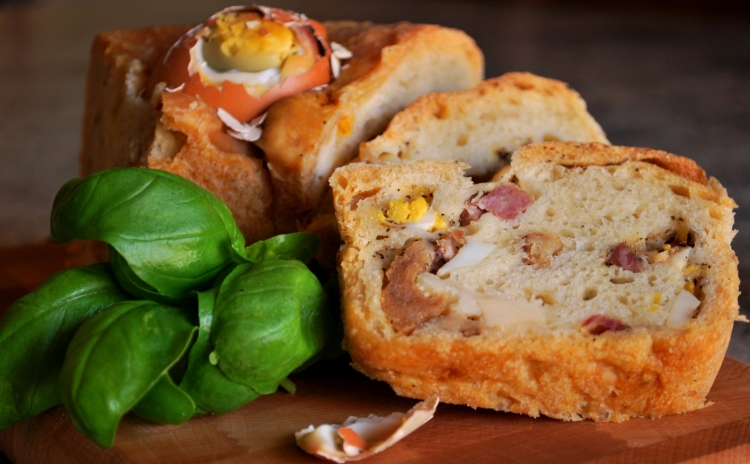 The Casatiello Fair in Sant'Arpino, in the province of Caserta, reaches its 29th edition, and it takes place from June 16th to 18th, 2023
But what is the Casatiello?
Casatiello is a typical stuffed bread of Campania, linked to peasant traditions. It was prepared by farmers during the Easter holiday, and the ingredients used were and still are lard, cheese, cracklings and salami.
For over 25 years, at the Casatiello Fair, food and wine and crafts stands have been set up selling local products where tasting the various types of Casatiello. There is the salty Casatiello, the sweet one, and every peasant family has its secret and its particular Casatiello.
In program also folk shows, dances and popular songs, painting and sculpture exhibitions, guided tours to the Doge's Palace and to the Church of Sant'Elpidio.
How to make the Neapolitan Casatiello
The Casatiello is the typical Neapolitan rustic cake (the rustic is a savory pie with a rich filling), and it is perhaps the most famous rustic that is prepared during the Easter period. Excellent both hot and cold, typical as a packed breakfast on Easter Monday outings.
Tradition has it that it is prepared on Friday evening, leavened the entire night of Good Friday and baked the following morning.
Like all traditional foods, the recipe has many variations. Here is a classic salty version.
Ingredients for a 32cm cake mold:
– bread flour – 600g
– water – 300 ml
– fresh yeast – 10 g
– lard – 150 g
– Neapolitan salami – 400g
– provolone cheese – 400 g
– pecorino cheese 70 g
– 4 whole eggs
– salt and black pepper
Directions
1 – Place the flour on a pastry board. Dissolve the yeast in lukewarm water and slowly add it to the flour.
– knead very vigorously for a long time and slowly add the water making sure all flours absorb it all
– add the lard and half of the pecorino cheese a little at a time, setting aside a little lard to grease the cake mold and the "casatiello" before putting it in the oven,
– add salt and black pepper.
– shape the dough into a ball, arrange it on a floured surface and let it rest for 1 hour
2 – roll out the dough on a pastry board roughly 1 cm thick. Leave some dough aside for the strips!
3 – Chop the salami and cheeses into cubes and sprinkle them over the entire dough. Gently roll up as tightly as possible.
4 – grease the mold abundantly with lard, arrange the roll into a donut, join the ends well and let it rest overnight covered with a cloth
5 – make some dimples evenly spaced on the casatiello and place the whole eggs, washed and dried. Secure the eggs with dough strips (the one you kept aside). Grease the casatiello all over with the lard kept aside.
6 – bake in a preheated oven at 160 ° C for about an hour.
7 – let the casatiello cool, cut into pieces and serve.
Preparation: about 1 hour
Cooking: about 1 hour
Are you in Sant'Arpino?
See other events and places to visit in Campania>>>
Not only casatiello, discover the traditional food of Campania>>> and its fine wines>>>
(photo: from the Facebook page of the event)
More Information >>>