Comicon 2018 – Naples
28 April-1 May. One of the most important comics festivals in Europe.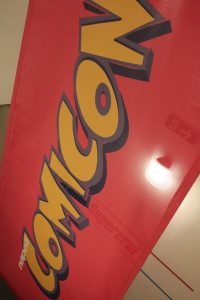 The International Comics Exhibition – Comicon 2018, the event dedicated to comics, games and cosplaying, returns from Saturday, April 28, until Tuesday, May 1, 2018.
The 20th edition of the event takes place at the Mostra d'Oltremare in Naples.
As in previous editions: gaming tournaments, videogames, screenings, exhibitions, meet and greets with the artists, and so much more.
Comicon 2018 also sees an improved videogames area, and Castel dell'Ovo hosts the exhibition "Twenty years of comics in Italy, 1998-2018".
Naples' Comicon is considered one of the most important European comics festivals.
This year, Lorenzo Mattotti, cartoonist and illustrator, as well as author of the Festival's official poster, is the "Magister" (President) of the Comicon.
Info about tickets >>>
Naples is a unique Italian city.
Want to know more the land of Pizza? >>>
(photos: event's official Facebook page)
Go to the website Comicon 2018 – Naples