Pertosa-Auletta Caves – Muraglione
The largest caves in Campania region. They can be explored by boat and on foot. 3 routes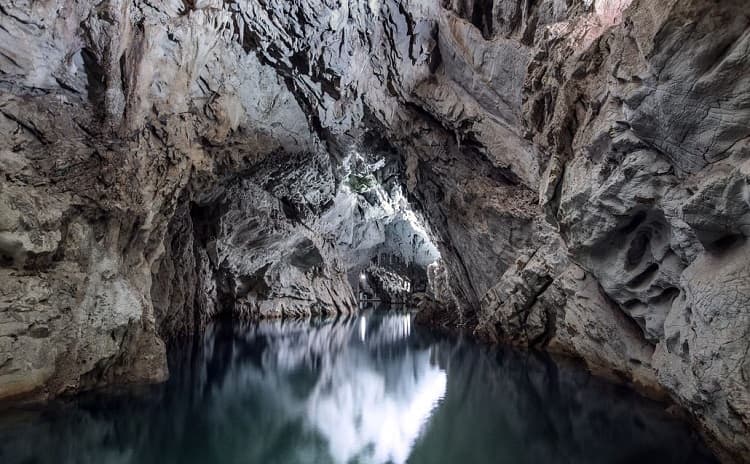 Pertosa-Auletta Caves are located in Muraglione, in the province of Salerno, on the Alburni mountain, and run for about 3 km underground. They are the largest in Campania region, and according to many, they are one of the most beautiful and evocative places in the entire Vallo di Diano.
Pertosa-Auletta Caves are famous for the fantastic representations created by stalactites and stalagmites including the so-called "kiss" between a stalactite and a stalagmite, that is the future contact, when the stalactite and the stalagmite will join together to form a single column. But unfortunately it will take thousands of years before the connection is complete…
Another peculiarity is the fact that it is one of the few non-marine caves crossed by a navigable watercourse, Negro River.
Another exclusive is that in the Caves it is possible to practice speleorafting, that is, visit with rafting boats in the first section and on foot in the speleological section. Visitors can also practice rafting on the Tanagro river in the area.

3 routes
The guided tour, suitable for people of all ages, allows visitors to see the whole "tourist" part.
The journey begins when entering into the Hall of Wonders and continues by boat to get to the grand entrance and then walk to the Throne Room and the majestic Great Hall (24 meters high).
– The complete route, lasting about 100 minutes, includes 1,500 meters on foot and 400 by boat
– The partial route lasts 60 minutes with 1000 meters on foot and 200 meters by boat.
– The speleological route (by reservation only for a group of up to 8 adults) includes the necessary equipment.
The temperature inside the caves is constant all year round and is around 16 °C.

Theater and cinema in the caves
For about eight years, Pertosa-Auletta caves hosted the theatrical show "Dante's Inferno in the Caves".
The audience divided into groups of 30/35 people was guided through the ten circles of Hell and in each of them, they met the most famous character or characters of the group.
Currently they host the traveling show "Ulysses: the Journey into Hades". It is a particular form of "speleoteather by boat", conceived and directed by Francescoantonio Nappi. The show stages Ulysses' descent into the Underworld and unfolds in a perfect and particularly suggestive natural setting.
Some scenes from the film The Phantom of the Opera, by Dario Argento, were shot in the caves.

Acknowledgments
Pertosa-Auletta Caves have been part of the network of European Geoparks for some years, in the UNESCO World Geoparks Network and the route is included among the "CAI paths" (Italian Alpine Club).
USEFUL INFORMATION
Opening hours, visit the official website>>>
The caves are closed from January to mid-February for biological rest period
Entrance with a fee>>>
Booking is recommended by calling +39 0975 397037 or sending an email>>>
It is recommended to wear a safety mask and to keep an interpersonal distance of at least 1 meter.
Visit also the Facebook page of the caves
photos from the official website of the caves
——–

Do you like caves? In Campania the most famous is the Blue Grotto of Capri >>>
More Information >>>