Primula Path – Cape Palinuro
Fascinating easy 14 km hiking path Nature, towers, caves and beaches.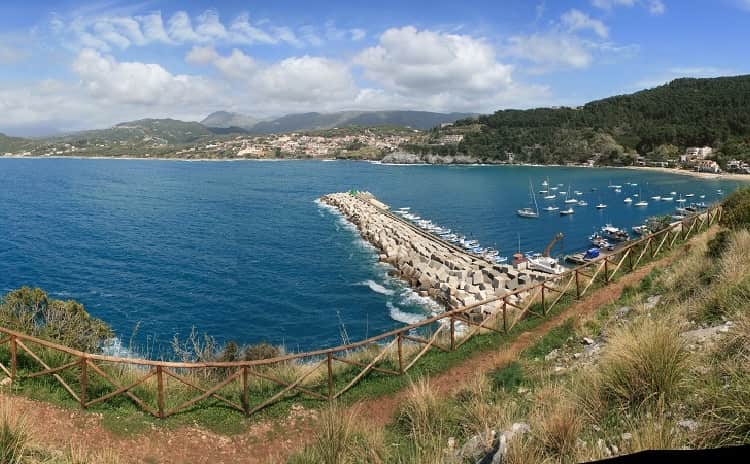 The Path of Primula, in the province of Salerno, is an easy hiking path about 14 km long on the southern coast of Campania region.
It twists and turns on Cape Palinuro. a rocky promontory that stretches for about 2 km into the Tyrrhenian Sea, between the Gulf of Velia and Gulf of Policastro, in one of the most beautiful places in Cilento, almost on the border with Calabria region.
The path takes its name from the Primula Palinuro, the symbolic primrose of Cilento, Vallo di Diano and Alburni National Park. which blooms from February to April on the cliffs of Cape Palinuro between Palinuro and the island of Dino in Calabria region.
Primula Palinuro is an endangered plant and it is illegal to pick.
The path
The path runs through and twists along the entire Cape from the mouth of the Mingardo river to Cala Ficocella in the center of Palinuro, and can be followed in both directions.
The views that can be enjoyed from Primula Path are unparalleled.
In a few kilometers, the path touches Saracen towers, forts, beaches, rocky walls with caves, bird nests of many species, woods, rivers, and archaeological areas.
Visitors can also see ancient watchtowers (built against the danger of Saracen invasions) and forts from the viceregal period (the 2 centuries between the 16th and 18th centuries) to defend the coast.
Starting from the mouth of the Mingardo river, the path offers a unique view from the southern side of the promontory. From there, a cycling path also starts crossing a grove of pines and oaks up to the Molpa hill, close to the archaeological site.
USEFUL INFORMATION
Thanks to the mild climate of the area, visitors can go hiking on the Primula Path from spring to late autumn. The bottom is mostly dirt, with a short stretch of asphalt and strolling along the path takes about 6 hours.
The path is well marked but it is recommended to carry a map of the site.
It is also recommended to bring a packed lunch and enough water. Of the hundreds of paths that intertwine in Cape Palinuro this is one of the most beautiful, evocative and poetic. A great experience.
Photos from the Facebook page of Cape Palinuro
________
ARE YOU IN CAMPANIA?
In the province of Salerno you can also visit Pertosa Auletta Caves>>> to be explored by boat and on foot
More Information >>>