Via dei Presepi – Nativity Scene shops in Naples
Historical shops in one street with Nativity scene characters of the Neapolitan tradition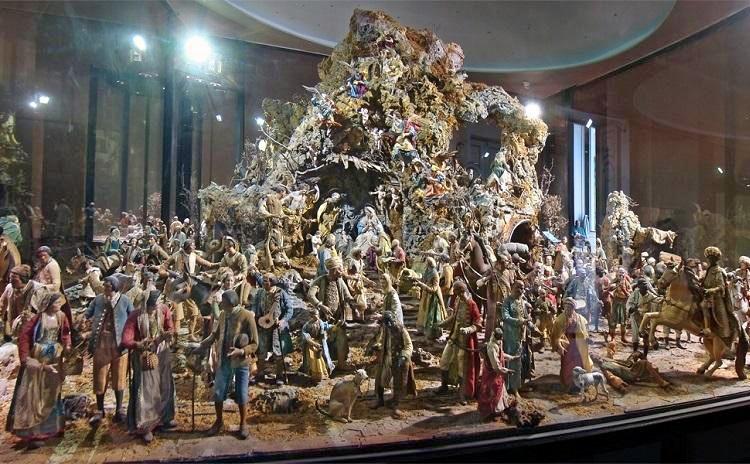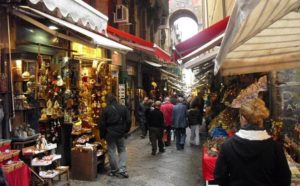 Via San Gregorio Armeno, also known as "O' vico de 'pasture" that is the street of the shepherds, is the famous Street of the Nativity Scenes, the street of the nativity scene artisans. It is located in the historic center of Naples, a short distance from the Cathedral connecting two main streets of the ancient Greek city: via dei Tribunali (Decumano Maggiore) and via San Biagio dei Librai (Decumano Inferiore or Spaccanapoli).
It is a real open-air museum where the oldest and most famous crib art shops in the world are located. Workshops, small shops and stalls showing and selling terracotta figurines and nativity scenes, handmade, sometimes even with hand-sewn clothes.
The workshops work throughout the year to prepare the Christmas festival, and can be visited while the artisans shape the terracotta or finish the finishing touches of their world-famous shepherds.
Traditionally, the figurines reproduce characters from the popular world dressed with clothes from the 1700s and 1800s , but today celebrities, sports, politicians and even the Pope are also represented.
The main characters in every Neapolitan Navitity Scene are:
– the Holy Family with the ox and the donkey;
– Benino, the shepherd who sleeps lying down. This character symbolizes the wait for Christmas;
– the fisherman: often waiting near the stream;
– the washerwoman, symbolizing the midwife who assisted Mary during childbirth;
– the gypsy, represents a controversial character but certainly heir to the Cumaean Sibyl;
– Stefania, the woman with a child, who saw the stone she was holding, wrapped in a sash, turned into a real child;
– Ciccibacco: the funny character sitting on a cart full of wine barrels pulled by oxen;
– the Seller: this can be the butcher, the chicken coop, the seller of eggs or cheeses; they should even be twelve like the months of the year
– the Bagpipers: two players on either side of the cave;
– the two Compari: commonly called "zi 'Vicienzo and zi' Pascal", they are the drinking companions;
– the Magi: Baldassarre, Gasparre and Melchiorre, represent the world that stops for the birth of Jesus.
All these characters and many other very curious characters, in different heights and with different levels of refinement, can be found in the shops and stalls of the nativity scenes in via San Gregorio Armeno, which has become one of the typical attractions of Naples, custodian of a centuries-old tradition reflecting well the nature of the city.
Even Goethe, in his Journey to Italy, explained how charming is the Neapolitan Nativity Scene:
"A light stage is built in the shape of a hut, all adorned with evergreen trees and saplings; and there we put the Holy Mary, the Child Jesus and all the characters, including those who soar in the air, sumptuously dressed for the party […]. But what gives the whole show a note of incomparable grace is the background, in which Vesuvius and its surroundings are framed "
Today Via San Gregorio Armeno is a UNESCO World Heritage Site.

WILL YOU SPEND YOUR CHRISTMAS HOLIDAYS IN ITALY?
See a selection of further Christmas events in Italy >>>
Or have a look to further theme musuems in Italy>>>
Photos from Wikipedia
Di Tango7174 – Opera propria, CC BY-SA 4.0,
Di Luca Aless – Opera propria, CC BY-SA 4.0,
Di la_rs – CC BY-SA 2.0,
Di Twice25 & Rinina25 – Fotografia autoprodotta, CC BY 2.5,
Di Raffaella from Napoli. – la via dei pastori – particolare di un banco, CC BY-SA 2.0,