Culatello di Zibello Museum – Polesine Parmense
The history and production of the King of cured meats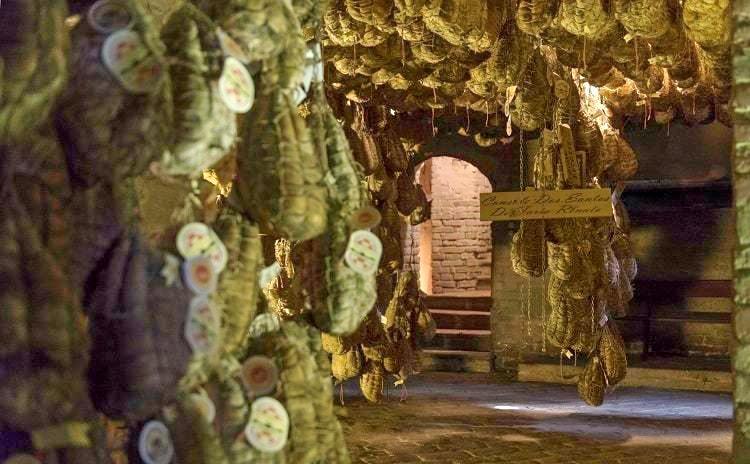 The Museum of Culatello di Zibello and "Masalen" (butcher, in dialect) is located in Polesine Parmense in an ancient 13th-century fortification called Corte Pallavicina.
The building was bought in 1991 by two brothers of the Spigaroli family. They restored it in homage to their family, that had been working on the farm for three generations, being also Giuseppe Verdi composer's land-holders. Then the Corte Pallavicina has become again a rich of charm building in that special area of  "Lower Parma" area where the Great Po River flows and the fog seems an essential ingredient of taste. And where Culatello reigns, not just any cured meat, but as the "King of cured meats".
Culatello comes from the muscular part of the rear thigh of pigs born, raised and slaughtered exclusively in Emilia Romagna and Lombardy and is processed only in the Lower Parma area and in the municipalities of Polesine, Busseto, Zibello, Soragna, Roccabianca, San Secondo, Sissa and Colorno , in the province of Parma.
Culatello is a particularly valuable cured meat and the production is quite limited for many reasons:
– in order to obtain a Culatello it is necessary to give up a ham as it is produced using the same part of the pig that in the dry hills of Parma is turned into the delicious Parma Ham.
– furthermore, the thigh is even reduced to make the culatello and the fiocchetto.
– the production is exclusively handmade
– Culatello requires a long seasoning.
The "protagonists" of Culatello museum are
– the territory: the environment, the poplar groves, the Po which is the natural setting of the pig farms' stories
– the pig in general and the "black" pig of Parma, just rediscovered in the recent years
– the Masalén (pork butchers in dialect) who handed down the art of traditional slaughtering of the pig called la ammazzata. a quite cruel practice that in the past was also a moment of celebration for the community.
The visit. The basement introduces the visitor to the secret world of Culatello. In this room are presented:
– two main ingredients in pork processing: the salt, with references to the precious salt of Salsomaggiore, and the pepper, its oriental origins and its value.
– the main cured meats of the Lower Parma area
– and the many famous people who appreciated Culatello, from Giuseppe Verdi to Gabriele D'Annunzio to Giovannino Guareschi.
The path ends with a passage
– in the fascinating gallery of Culatello, which ripens in humidity and dim light
– and in the Hosteria room with a Culatello tasting that closes the visit dedicated to the King of cured meat.
USEFUL INFORMATION
– open from February to December
– from Tuesday to Sunday from 10 am to 6 pm
– see the website to check for any changes>>>
– January Closed
Entrance with a fee
It is recommended to wear a safety mask and to keep an interpersonal distance of at least 1 meter.
For information please call +39 340.1939057 or visit the website>>>
——
FOOD MUSEUMS IN THE PROVINCE OF PARMA
Culatello di Zibello Museum is part of the "Food Museums" circuit of the province of Parma, dedicated to typical local products. It also includes:
– Pasta Museum in Giarola di Collecchio
– Tomato Museum in Giarola di Collecchio
– Wine Museum in Sala Baganza
– Felino Salami Museum in Felino
– Parma Ham Museum in Langhirano
– Parmigiano Reggiano Museum in Soragna
– Porcino Mushroom Museum of Borgotaro in Borgo Val di Taro
(photos from the Facebook page of the Food Museums)