Ice Cream Museum – close to Bologna
An interactive tour to discover the history of ice cream throughout the centuries. Tasting included.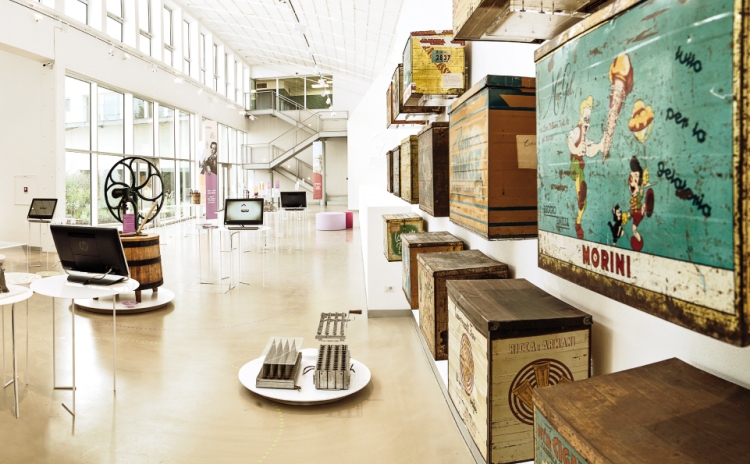 TEMPORARILY CLOSED
Opening hours: visit the website>>>
RESERVATION IS REQUIRED on the website>>>
ADMITTED ONLY VISITORS WITH SAFETY MASK and with self-certification.
Visitors are kindly recommended to USE DISPENSERS with sanitizer before entering the exhibit rooms.
TEMPERATURE detection. Those who do not want to have their temperature measured or have a temperature above 37.5 ° will not be admitted inside the structure.
Inside the museum, INTERPERSONAL DISTANCE of at least 1 meter is mandatory
__________
Opened in 2012, the Ice Cream Museum – Gelato Museum Carpigiani – is a center dedicated to making people aware of the history, the culture, and the technology of ice cream throughout the centuries.
The interactive tour is divided into 3 steps and includes workshops and tasting.
– evolution of ice cream over time
– history of production technology
– where and how ice cream is consumed
The museum's 1000 square meters are home to 20 original machines, many multimedia presentations, over 10.000 images and historical documents, tools and accessories, and original video interviews.
Gelato Museum is located in the Carpigiani headquarters in Anzola dell'Emilia, which has been transformed into an innovative center dedicated to studying the ice cream's history.
What else? Discover the typical traditional food to taste in Emilia Romagna >>>
GELATO MUSEUM OPENING HOURS
Open all year round from Tuesday to Saturday: 9.00 – 18.00
Mandatory reservation for labs and guided tours.
CONTACTS
Gelato Museum Carpigiani
Via Emilia, 45 40011 Anzola Emilia (Bologna)
Phone. (+39) 051 6505306
Mob. (+39) 3443804701
Email: info@fondazionecarpigiani.it
More Information >>>