Work Boats Marineria Museum – Cesenatico
The only floating museum in Italy dedicated to traditional work boats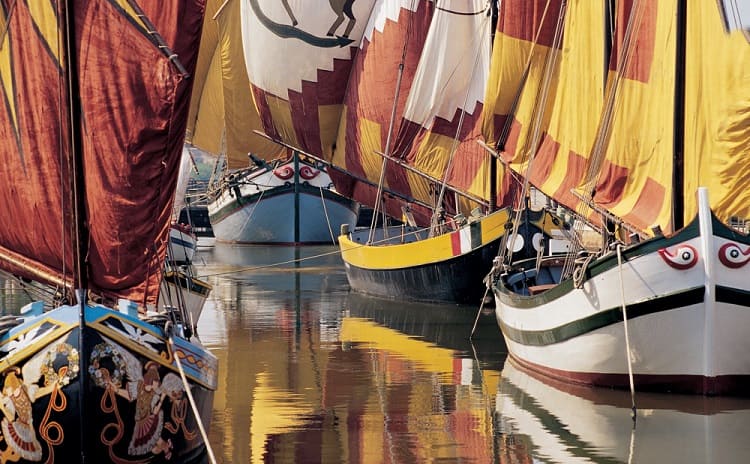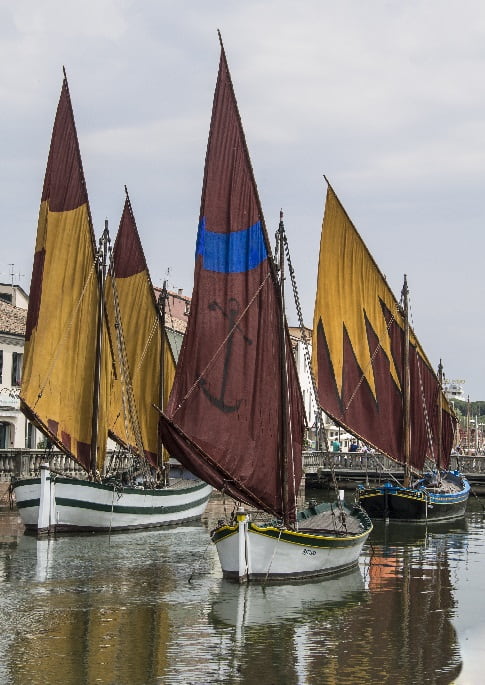 On Leonardo pier
If you are passionate about sailing and the sea, you must visit the Maritime Museum in Cesenatico, the only floating museum in Italy.It is located in the oldest and most characteristic part of the famous canal port of Cesenatico, which is also the main historical monument of the city. In fact, it follows Leonardo da Vinci's lines, called in 1502 to suggest improvements to the pre-existing landing place.
Two sections of the Museum
The Museum is divided into two distinct sections: the Floating Section, which hosts 10 historic boats from the middle and upper Adriatic, and the Land Section, where various aspects of the navy are illustrated and documented.
Floating Section: 10 historic boats docked
The ten boats of the Floating Section are representative of those most used by the sailors in the upper Adriatic between the end of the nineteenth century and the first half of the twentieth century.There are two fishing trabaccoli (small boats), three bragozzi (wooden sailing boats), a launch, a fishing vessel, a rowing boat, a battana (watercraft) and a transport lugger, on which in summer it is possible to board to visit the cabins and the large cargo hold.Two boats docked over the bridge are seaworthy and participate in demonstration outings and vintage boat rallies in the summer, going as far as Chioggia and Venice every year.
What makes the Floating Section of the Museum unique and exciting are above all the sails, decorated with bright colors with the symbols of the different fishing families: a tradition that became a real "seafaring heraldry".
The sails are hoisted and lowered every day starting from Easter and until the end of October, compatibly with weather conditions.
Land Section: the lug sails
The Land Section of the Maritime Museum offers an evocative itinerary dedicated to the traditional seafaring of the upper and middle Adriatic.The large pavilion hosts in the center a trabaccolo and a bragozzo – the two protagonists of the sailing history in the upper Adriatic – fully equipped with their "lug" sails.
In the first part of the route, dedicated to "structure and construction", visitors can touch the simple materials and technologies with which man has navigated for millennia.
USEFUL INFORMATION
Opening hours:
– in Winter Saturdays, Sundays and holidays from 10am to 12pm and in the afternoon from 3pm to 7pm
– From Saturday 18 June to Sunday 11 September: every day from 10am to 12pm and in the afternoon from 5pm to 11pm
– Until 30 September, from Monday to Friday from 10am to 12pm and Saturday and Sunday from 10am to 12pm and in the afternoon from 3pm to 7pm
For more information please call +39  0547-79205 or send an email>>>
Entrance with a fee>>>
It is recommended to wear a safety mask and to keep an interpersonal distance of at least 1 meter.
Also visit the Facebook page of the museum
DO YOU WANT TO KNOW FURTHER INTERESTING MUSEUMS?
See a selection of Theme Museums throughout Italy>>>
Photos from Wikipedia
Di Boschetti marco 65 – Opera propria, CC BY-SA 4.0,
CC BY-SA 3.0,

More Information >>>