Medieval Festivals – Brisighella
2-5 June 2022. Historical commemoration to revive the charm of the Middle Age.
In the suggestive Manfrediana Fortress, which watch over from the top the ancient village of Brisighella (Ravenna), a long weekend of historical commemoration to revive the charm of the Middle Age.
Usually on a weekend of May, in 2022 from June 2nd to 5th in the colourful crowd of aristocrats and knights, artisans and musicians, soldiers and farmers, the Medieval Festivals bring back the old professions, the traditional customs, the battle between the knights and the storytellers' shows.
After the sunset, the light of the torch will suggestively illuminate the weapons and the armours, the terracotte and the trunks. The rolling of the drums will be more impetuous, the duels will transform in burning battles, the animations will be on stage, to finish up with big concerts and dances.
The event also hosts the "Castrum Brassichella" Award, which the hosted companies are going to compete for, by dealing with Medieval fencing.
Don't miss the Medieval Tavern with dishes and flavours cooked according to ancient recipes with daily menus.
On Saturday at dusk, there's the remembrance of an assault of the fortress, which ends on Sunday in the late afternoon.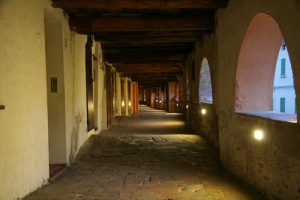 The medieval festivals are also an occasion to visit Brisighella, one of the most beautiful villages in Italy. In the historical centre, in Marconi Square, there is the Old Street of the village, a covered and elevated street that dates back to the XII century, illuminated by semi arches of different width. It's also known as "Via degli Asini" (Streets of Donkeys) for being a shelter for the animals offered by the inhabitants.
INFORMATION
Pro Loco Brisighella
Tel. +39 0546 81166
Are you in Emilia Romagna? Find out what other festivals take place in summer>>>
What are the typical food of Emilia Romagna?>>>
And the wines? Follow the link>>>
More Information >>>